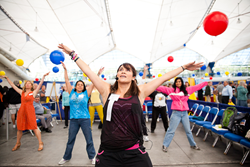 Spend an entire day dedicated to your health
Des Moines, Iowa (PRWEB) September 10, 2014
Diabetes affects more than 170,000 people in Iowa. Many are asking the same question: "Does anyone understand what it's like to live with diabetes?" Taking Control of Your Diabetes (TCOYD) is a 501(c)3 not-for-profit organization that has been educating and motivating diabetes communities in cities around the country since 1995, and they understand. TCOYD will be hosting its 157th national event in Des Moines, IA with an all-star cast of diabetes experts for a day that will ignite motivation, offer hope and change the life of anyone with diabetes!
Steven Edelman, MD, Endocrinologist and Founder and Director of TCOYD, was diagnosed with diabetes at the age of 15. Edelman was told that blindness, kidney failure and amputations were likely to occur after several years and that his life expectancy wouldn't exceed 20 years. That was not a prediction that he was willing to settle for. Edelman went into medicine with a mission of improving his health, the health of others and the medical system behind it all. At the age of 58 he is living well with diabetes and had dedicated his medical career to educating and empowering others with this disease.
What makes TCOYD stand apart from any other organization is that they are strong advocates of change, believers in a cure for diabetes, and proponents of possibility. TCOYD brings the medical world and the patient world together in order to engage in conversations that make a difference, that improve lives and health at a very deep and lasting level. It is the only program of its kind in the United States and abroad.
Join TCOYD at the Iowa Events Center on Saturday, September 27, 2014 from 9:00am – 5:00pm. Learn, laugh and live better with leading diabetes experts, get one-on-one advice from endocrinologists, diabetes educators, dietitians, pharmacists and personal trainers and receive the most cutting-edge type-specific information on diabetes care and management by attending TCOYD's individualized type 1 or type 2 track.
SPACE IS LIMITED: pre-registration is recommended.
Registration fees: $25 per person ($20 per person for groups of 2 or more) on or before 12 noon PST Wednesday, September 24, 2014. Day-of event registration is $30 and begins at 7:30am at the Iowa Events Center. FINANCIAL ASSISTANCE IS AVAILABLE BY CALLING TCOYD.
To register or to get more information, call 800.99.TCOYD (800.998.2693) or visit http://www.tcoyd.org.
About TCOYD: TCOYD is a San Diego-based 501(c)3 charitable diabetes educational organization dedicated to informing and empowering people with type 1 and type 2 diabetes to take an active role in their health.
About Steven V. Edelman, MD: Steven V. Edelman, MD, Founder and Director of Taking Control of Your Diabetes (TCOYD). Edelman, an internationally recognized leader in diabetes treatment, research and education says, "It is my conviction, that health care in this country will improve when people living with diabetes are informed and empowered to take an active role in their own condition." Dr. Edelman is a Professor of Medicine at University of California, San Diego and Director of the Diabetes Care Clinic at the VA Healthcare System in San Diego.