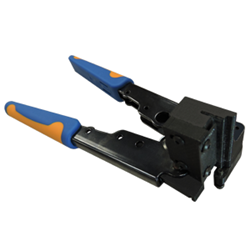 WILMINGTON, Mass. (PRWEB) July 29, 2019
Heilind Electronics, a leading global distributor of electronic components and authorized distributor for TE Connectivity (TE), a global leader in connectivity and sensors, recently introduced the manufacturer's new terminal cutter hand tool. The tool enables operators to easily remove side-feed, front-carrier strip and reeled terminals from their carrier strips – and in the process, avoid damaging products or creating sharp burs commonly associated with traditional wire snips.
TE Connectivity's terminal strip cutter is a purpose-built tool with the single objective of making loose piece terminals from strips and reels. The product has an ergonomic design with enough handle force to manage large terminal sizes. It is also equipped with simple adjustment features to accommodate tension and varying terminal heights, depths and carrier strip lengths.
Not only is the tool lightweight, but it is also easy to use and affordable. The adjustable tool accommodates side-feed, front-carrier strips of varying sizes, but is not designed to cut end-feed, center-carrier or dual-carrier terminal strips. The device offers the precision needed to cut one terminal at a time, reducing waste.
Visit Heilind's website for more information about TE Connectivity's terminal cutter hand tool.
About Heilind Electronics
Heilind Electronics, Inc. (http://www.heilind.com) is one of the world's leading distributors of connectors, relays, sensors, switches, thermal management and circuit protection products, terminal blocks, wire and cable, wiring accessories and insulation and identification products. Founded in 1974, Heilind has locations throughout the U.S., Canada, Mexico, Brazil, Germany, Singapore, Hong Kong and China. Follow Heilind on Facebook at facebook.com/Heilind and on Twitter at twitter.com/Heilind.
About TE Connectivity
TE Connectivity Ltd. (http://www.te.com) is a $14 billion global technology and manufacturing leader creating a safer, sustainable, productive and connected future. For more than 75 years, TE's connectivity and sensor solutions, proven in the harshest environments, have enabled advancements in transportation, industrial applications, medical technology, energy, data communications and the home. With 80,000 employees, including more than 8,000 engineers working alongside customers in approximately 140 countries, TE ensures that EVERY CONNECTION COUNTS.
TE Connectivity, TE, TE connectivity (logo), and EVERY CONNECTION COUNTS are trademarks of the TE Connectivity Ltd. family of companies.