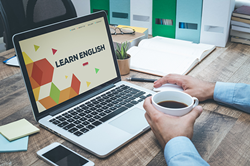 "The United Nations recently reported that more than 290 million students in 13 countries have had their regular in-class studies disrupted due to the coronavirus. Almost all of these students are now taking classes online."
BALTIMORE (PRWEB) March 10, 2020
Retirees (and others) looking for ways to generate funds from home would be wise to consider teaching English online, where the primary qualification is simply having native English skills. It's a skill that can help fund a comfortable lifestyle—and it can pay from anywhere there's an internet connection. Qualified people need not have a teaching degree or any specialized qualifications beyond their native English skills.
"There has never been a better time to turn your English skills into an online income," says Kary Vannice, creator of Speak English and Get Paid, a course that explores the many earning paths open to English speakers, and host of a new Earn-with-English Online Masterclass. "The United Nations recently reported that more than 290 million students in 13 countries have had their regular in-class studies disrupted due to the coronavirus. Almost all of these students are now taking classes online. Major online English teaching companies are on a hiring spree to fill the demand.
"But it's not just the coronavirus that makes now a great time to teach English online," says Vannice. Even before this outbreak, there weren't enough English teachers to satisfy demand around the world. English is the language of the Internet—and the reach of the internet keeps expanding. A growing middle class worldwide is driving greater urbanization which, in turn, creates more demand for English skills as well. And the ability to speak English has been equated to higher pay. So the demand is significant. And now—more than ever—it's being met by native English speakers online.
"The e-learning sector is one of the world's fastest growing industries, slated to become a $65 billion-dollar industry by 2023," says Vannice. "You have a virtual 'perfect storm' of opportunity just waiting to be cashed in on. With a laptop, a speedy internet connection, and a little know-how, you can be set up in a matter of weeks to be earning online from the comfort of your own home."
"Many of these opportunities allow you to determine your own work hours, what type of students you work with, and how much or how little you work every week," Vannice explains. "Some employers even prefer to hire teachers with no prior teaching experience, so they can train them how to teach their way, using their learning materials. With so much opportunity, there really is something for everyone."
The editors at International Living argue that with many Americans already concerned their next egg might not hold out through retirement—even before the recent market crash—it makes good sense to have an income plan in place. Ideally, it's one that allows a person to earn from anywhere, in the hours they prefer, from right there at home, and without a long ramp-up time or lots of specialized qualifications. Teaching English online checks all those boxes.
"While the income from teaching English isn't enough to get rich, it's certainly adequate to sustain a life abroad," says Dan Carpenter, who lives with his family today in Panama.
"We quickly found ourselves embracing the slower pace of life, the Spanish language, and the interesting people that we met from all over the world. Because our English students are on the other side of the world, we teach very early in the morning (usually 4:30 a.m.). By 8 a.m., we are done teaching for the day, and ready to have fun with our kids."
That flexibility is attractive—and it comes built in, no matter if a person's home base is Hays, Kansas or Barcelona, Spain. "I've created my own schedule, teaching from 5 a.m. to 8 a.m., Monday to Friday," says Tess Bercan, based in Costa Rica. "I earn about $1,000 a month doing this. However, you can earn up to $2,000 or more if you open up your availability. For me, this schedule is ideal. By 8 a.m., I'm done with my day, and I spend the rest of my time at the beach and meeting friends.
"Imagine opening a program similar to Skype on your laptop," Bercan says. "On it, you meet your students through video conference and teach them simple English for about 25 minutes. This is exactly what teaching online looks like."
More information, Your Guide to Teaching English Overseas for Fun and Profit can be found here: What Do You Need to Teach English Online?
Editor's Note: Members of the media have permission to republish the article linked above once credit is given to Internationalliving.com
Further information, as well as interviews with expert authors for radio, TV or print, is available on request. Photos are also available.
For information about InternationalLiving.com content republishing, source material or to book an interview with one of our experts, contact PR Managing Editor, Marita Kelly, +001 667 312 3532, mkelly@internationalliving.com
Instagram: https://www.instagram.com/internationalliving/
Twitter: @inliving — https://twitter.com/inliving?lang=en
Facebook: https://www.facebook.com/International.Living/
About International Living
Since 1979, InternationalLiving.com has been the leading authority for anyone looking for global retirement or relocation opportunities. Through its monthly magazine and related e-letters, extensive website, podcasts, online bookstore, and events held around the world, InternationalLiving.com provides information and services to help its readers live better, travel farther, have more fun, save more money, and find better business opportunities when they expand their world beyond their own shores. InternationalLiving.com has contributors traveling the globe, investigating the best opportunities for travel, retirement, real estate, and investment.