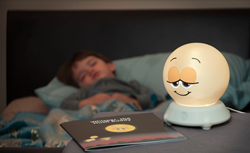 It wasn't until a nephew melted down at 3am during a family visit that I thought there must be a solution to this problem. So I created a reactive nightlight that helps children sleep and promotes healthy nighttime behaviors
RALEIGH, N.C. (PRWEB) February 10, 2020
A device that teaches toddlers to go to sleep quickly and quietly? Yes, please! It's called Hush Buddy-- a patented sleep training system for children, launching today on Kickstarter. Hush Buddy creates and reinforces positive bedtime routines for both toddlers and their parents.
With the Hush Buddy Sleep System, getting a child to sleep soundly is as easy as ready, read, rest!
Get the child ready for bed with best practices suggested by top sleep experts
Read the bedtime story "Whisper, the Hush Buddy"
Say goodnight and leave the room while the child rests thanks to Whisper, the Hush Buddy
The centerpiece of the Hush Buddy system is "Whisper, the Hush Buddy". What "Elf on the Shelf" is to Christmas, Whisper is to sleep. The bedtime story explains to the toddler that Whisper doesn't like loud noise, and will dim briefly if there's too much sound. Sure enough, if the toddler begins to cry of fuss at bedtime, Whisper dims for 2 seconds.
Some families may benefit from the optional progressive dimming settings which increase the duration of the dimmed light little by little to remind children to be quiet during the night.
"As the father of twins, I learned first-hand how challenging it can be to get toddlers to sleep," said Scott Hanson, creator of Hush Buddy. "It wasn't until a nephew melted down at 3am during a family visit that I thought there must be a solution to this problem. As I looked into the solution further, I learned how vital a good night's sleep is for their brain development. So I created a reactive nightlight that helps children sleep and promotes healthy nighttime behaviors."
Hush Buddy is unlike other nightlights and sleep products because it taps into the right parts of a child's imagination without overstimulating them. With the bedtime story, children attach a persona to the Hush Buddy device and learn to stay quiet to keep the device illuminated.
Hush Buddy doesn't make sounds or play music. Its amber-colored light encourages the body's natural melatonin production, which helps sleep come quickly. It also reads the noise level in the room to create a baseline. This allows families who rely on white noise machines to continue to use them with Hush Buddy.
"When we gave out prototypes to families to see if we were on the right track, they didn't want to give them back," Hanson said. "We want all families with young children to experience restful nights so everyone can have more productive days."
The Hush Buddy Sleep System is available with English and Spanish language bedtime stories and can be pre-ordered on Kickstarter by visiting pr.go2.fund/hushbuddy.
About Hush Buddy Sleep
Hush Buddy Sleep was created to support families as they build healthy routines for their children. By helping toddlers sleep with the science-based Hush Buddy Sleep System, each child becomes equipped to reach their full potential. Well-rested children and well-rested families are the mission of Hush Buddy Sleep. For more information, visit hushbuddysleep.com.