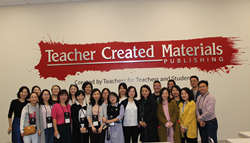 The incredible enthusiasm that the Chinese educators brought to everything we did was infectious. We learned just as much from them as they did from us.
HUNTINGTON BEACH, Calif. (PRWEB) April 17, 2019
True to the company's, vision, To Create a World in Which Children Love to Learn, Teacher Created Materials was honored to host 21 Chinese educators in Southern California, April 8–12, 2019, at the inaugural TCM China Teachers Summit.
The purpose of their visit was to participate in hands-on, professional development around research-based teaching strategies for literacy instruction and higher-order thinking skills in order to enhance their teaching and improve their students' learning back in their home cities in China.
"We were honored to host this international learning exchange!" said Kim Bernard, Vice President of International Sales. "The incredible enthusiasm that the Chinese educators brought to everything we did was infectious. We learned just as much from them as they did from us."
Additionally, the educators had the opportunity to visit different American schools in the Buena Park and Westminster school districts to see balanced literacy and inquiry-based learning strategies in action. They witnessed exemplary teachers using the strategies and skills that were presented during the professional development.
"What an incredible event! We are honored that TCM thought of Buena Park School District when wanting to show a quality Balanced Literacy Program," said Stephanie Williamson, Teacher on Special Assignment-Special Projects, Buena Park School District. "Our teachers felt incredibly proud and reinvigorated to have educators from China come into our classrooms and see components of Balanced Literacy."
After each site visit, the Chinese educators had the opportunity to talk with the American teachers whose classrooms they observed to ask questions, collaborate, and build relationships. Some even went so far as to exchange contact information in order to form class pen pals with their students during next school year.
"On behalf of all the teachers from China who visited, we would like to express our sincere gratitude for your hospitality during our visit," said Irene Li, TCM Sales Director for China. "Unlike many other brief campus tours we have experienced before, the visits to your good schools have impressed us significantly. Not only for the detailed preparation and hospitality offered by your teachers, staffs, and students, but also and more importantly, the confidence, passion, enthusiasm and diversity presented by all the teachers and students have given us a deep impression. We are here to witness, to experience, and to learn the magical effects brought about by the balanced literacy, and we indeed have been touched by this methodology. Definitely, we will bring those positive benefits back to China and hopefully we can influence more Chinese students [of] the same age, which is quite a meaningful thing to do."
About Teacher Created Materials
Teacher Created Materials develops innovative and imaginative educational materials and services for students worldwide. Everything they do is created by teachers for teachers and students to make teaching more effective and learning more fun. For more information about Teacher Created Materials and their products, visit http://www.tcmpub.com.