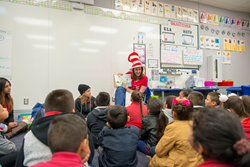 We are proud to be honored among the top civic-minded companies for the second year in a row.
HUNTINGTON BEACH, Calif. (PRWEB) September 25, 2018
Teacher Created Materials, a leading educational publishing company, has been named by The Orange County Business Journal (OCBJ) as one of the top 50 most community-minded companies in Orange County for the second year in a row.
TCM's mission is to "create a world in which children love to learn." Recognition by the OCBJ is proof that that mission is continuing to pay off.
"We are proud to be honored among the top civic-minded companies for the second year in a row," says Deanne Mendoza, co-owner of Teacher Created Materials. "It is important to us to give back in all of the communities where we do business, but it is especially meaningful to us in the community that we call home."
The Civic 50 Orange County, presented by OCBJ in partnership with OneOC, provides a local standard for superior corporate citizenship and showcases how companies can use their time, skills, and other resources to improve the quality of life in the community where they do business. Of the tens of thousands of companies headquartered in Orange County, being named in the top 50 for civic dedication is quite an honor for any company.
Companies were selected based upon four dimensions of their community engagement programs: investment, integration, institutionalization, and impact. Teacher Created Materials participates in a variety of community outreach events throughout each year, including cancer research, food drives, and employee-driven charities. Most notably, the company participates in Read Across America, where all 130+ Huntington Beach based employees engage in literacy-building activities and school beautification projects at a local Title I, low-income school. Each student at the selected school also receives a backpack full of books and learning materials.
The Civic 50 OC List and Special Report will be published October 15, 2018 in the OCBJ.
About Teacher Created Materials
Teacher Created Materials develops innovative and imaginative educational materials and services for students worldwide. Everything they do is created by teachers for teachers and students to make teaching more effective and learning more fun. For more information about Teacher Created Materials and their products, visit http://www.tcmpub.com.
About The Orange County Business Journal
The Orange County Business Journal is the weekly read that connects the Orange County business community. This is where the community doers in the most vibrant slice of the Southern California economy keep tabs on each other. With one of the highest circulations of all the Business Journals in the country, it continues to grow as a highly impactful and influential publication. More information on the Orange County Business Journal can be found at http://www.ocbj.com, or by calling 949-833-8373.
About Civic 50 Orange County
Since 2012, The Civic 50, an initiative of Points of Light, has recognized the 50 most community-minded companies in the nation each year as determined by an annual survey developed by True Impact.
About OneOC
OneOC is a 60-year old nonprofit 501c3 organization committed to accelerating nonprofit success through volunteer, training, consulting and business services. Serving Orange County, California, OneOC provides support and solutions to more than 750 nonprofit organizations and community initiatives each year. Since 2015, OneOC has also become a one-stop shop that provide smart, easy and impactful giving and volunteering services to companies. OneOC is affiliated with Points of Lights Institute, enabling participation in national community service initiatives and connection to a larger movement of change. For more information, visit http://www.OneOC.org.