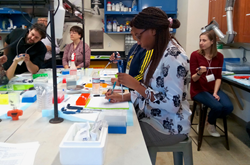 Investing in STEM programs paves the way for the next generation of scientists, who may one day be on the brink of their own ground-breaking discoveries.
WINCHESTER, Mass. (PRWEB) February 16, 2019
At Acera's Life Sciences Lab, as part of Acera's Education Innovation outreach program, biology teacher Cleveish Bogle is excited. The KIPP Academy Lynn Collegiate High School teacher is preparing a southern blot -- a procedure for identifying specific sequences of DNA -- and imagining her students' reaction to the lab exercise and to the new unit she will now add to her class in March. Her students will use CRISPR technology to edit genes in their high school biology lab exercises, and discuss how this new biotechnology changes future possible therapeutic treatment for disease.
"My students have been asking for more lab activities, and I think this is right on par with that," said Bogle. "It's investigative, it's hands-on, and they get to really dive deep into the things we've been talking about in class and see it in practice. They will love this."
Bogle is part of a cohort of public school teachers taking part in a free, three-day workshop series funded in part by Bristol-Myers Squibb and led by Acera: the Massachusetts School of Science, Creativity, and Leadership. Michael Hirsch, life sciences lab manager at the Winchester-based K-8 STEM school, is training the group on gene editing with CRISPR technology, using a curriculum he developed and pilot-tested at Acera.
"Bristol-Myers Squibb is proud to support this real-world learning opportunity for Acera School, and for students who are passionate about the life sciences," said Saurabh Saha, senior vice president and global head of translational medicine at Bristol-Myers Squibb. "As a science-driven organization, we are committed to investing in STEM programs to help pave the way for the next generation of scientists, who may one day be on the brink of their own ground-breaking discoveries."
The teachers hail from Greater Boston public schools, including those in Cambridge, Gloucester, Lynn, Littleton, Lexington, Lowell, and Salem. The series included a day at Novartis' Community Exploration and Learning Lab (CELL), where teachers learned how scientists today work iteratively in the lab to conduct research, and how to translate these innovations into lesson plans that align with Next Generation Science Standards and offer inspiration and a sense of purpose to students.
"All students should be able to link classroom learning to real world innovations," said Courtney Dickinson, founder and director of Acera. "Working with relevant technology that is in the news, and engaging in deep discussions to understand these innovations -- including how they work and why they matter -- makes science labs meaningful and enables students to see a pathway for themselves as future scientists and innovators."
Building this pathway can pay off in the future, as the U.S. currently doesn't have the workforce to fill its STEM positions. According to the Smithsonian Science Education Center, more than 2.4 million STEM jobs went unfilled in 2018. And with Boston recently ranked by WalletHub as one of the best metro areas for STEM jobs, Acera staff hope that introducing these new and innovative curricula at a younger age could spark local students' interest in these careers. To that end, life sciences leader Bristol Myers-Squibb recently invested $50,000 in Acera's Education Innovation Initiative to launch its curricula in public schools.
David Enos, a biotechnology teacher at Gloucester High School, sees the new activities as a way to boost confidence and interest in STEM among under-performing students. "With these hands-on elements, the kids who struggle academically can often just jump right in and do it," he said.
In addition to gene editing with CRISPR, Acera has a year-long, 11-unit "Reinventing High School Biology" curriculum covering cell cycles, microbiomes, ecology, and other areas of biology. The school's Education Innovation Initiative is partnering with STEM industry leaders to export this curriculum to public schools. Its next teacher training workshop series will take place this summer.
Founded in 2010, Acera engages students in individualized, project-based learning that is designed around their passions and aligned with their own abilities. In addition to K-8 education, Acera offers daily after-school enrichment programs as well as February, April, and summer vacation camps. For more information, visit aceraschool.org.