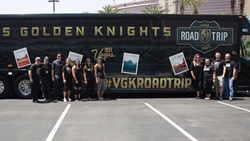 HENDERSON, Nev. (PRWEB) August 13, 2018
Team Acme, auto detailers based in Henderson, near Las Vegas, Nevada, wrapped a bus that is taking hockey all-star and Golden Knights player Brad Hunt on a road trip that will involve greeting fans and signing autographs.
Stops on the road trip include:

Reno, Nevada,
Jackson Hole, Wyoming,
Salt Lake City Utah, and Boise, Idaho.
The bus is wrapped in a design that presents a celebration of two things: The Vegas Golden Knights, and America. The bus features a gleaming black wrap with golden letters (in the colors of the team's uniform) spelling out "Vegas Golden Knights," and "#VKGroadtrip" where followers can follow the bus and players on social media.
The country, meanwhile, is symbolized by postage stamp designs that feature landmarks of the states where the bus will stop.
To learn more about the creative process and graphic design that went into producing the custom bus wrap, contact Team Acme.