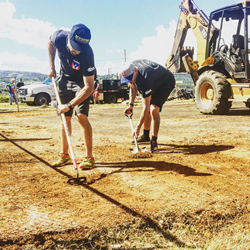 CHARLOTTE, N.C. (PRWEB) December 19, 2018
Travis Pastrana, 11-time X Game gold medalist; Ryan Sipes, 2-time AMA rider of the year; and motocross racing icon and former MX of Nations winner, Kevin Windham competed as Team Puerto Rico (U.S. territory) in the Motocross of Nations in October to raise money, bring awareness, and provide hands-on help for the island still reeling from the effects of Hurricane Maria.
To offer support, team Puerto Rico (coached by Ricky Johnson) took all funds raised through sponsorships, donations, and merchandise sales to the island. Working alongside team cbdMD, Global Disaster Outreach, and NeWave Construction, the team worked to repair local infrastructure.
The hurricane hit very close to home for Pastrana, as his grandfather is from the island. "We are so honored to be here in beautiful Puerto Rico with our partners cbdMD, Global Disaster Outreach, and NeWave Construction to help rebuild the motocross community, schools, and homes," said Travis Pastrana. "The island is still facing hardships from hurricane Maria and we are all here to help wherever possible."
Javier Loiz, Administrator of the Juncos Motocross Track said, "I can't believe that they have accomplished this much work and most of all, the quality of the work that has been done…The motocross community, the town of Juncos, and I are extremely grateful."
To offer additional support and to donate to the cause, please click here.
cbdMD offers a comprehensive line of 100% natural, hemp-derived CBD oil products, including tinctures, capsules, vape oils, bath bombs, topicals, and pet products. As a company committed to the highest standards for CBD sourcing, extraction, and production, cbdMD is for consumers seeking to experience the full benefits of CBD in a safe, convenient, and effective manner. For more information, please visit http://www.cbdMD.com.