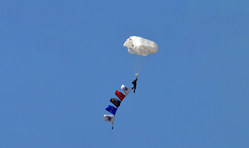 ANNAPOLIS, Md. (PRWEB) August 16, 2019
On Saturday, August 17, 2019, the Chesapeake Bayhawks vs. Boston Cannons game is sure to be a night to remember. The game starts at 7 p.m. at Navy-Marine Corps Memorial Stadium in Annapolis, MD.
As fans place their hand over their heart, as the National Anthem starts to play, Team Fastrax™ will jump in with the Armed Forces medley flag, which is a banner towing all five flags of the Armed Forces.
"We are honored to be performing our Armed Forces medley flag skydive for the Chesapeake Bayhawks game, especially on Military Appreciation Night," commented John Hart, owner of Start Skydiving, and Founder of Team Fastrax™. "Members of Team Fastrax™ have served the United States of America as part of the Armed Forces, many in combat, so we enjoy performing at any event that honors our nation's military.
According to the Chesapeake Bayhawks website, Military Appreciation Night is where they honor and celebrate the service and sacrifice of military service members, veterans, and their families. There are many in-game fan contests and a kids zone with food and games at field level.
For more information on the game or to purchase tickets visit the Chesapeake Bayhawks official website.
Team Fastrax™ dedicates every performance to a local fallen hero. They may be gone but are not forgotten. This performance by Team Fastrax™ is dedicated to Army Spc. Craig S. Ivory. For more information on Army Spc. Craig S. Ivory, visit the Honor the Fallen website.
ABOUT TEAM FASTRAX™
Team Fastrax™, sponsored by SELECTiON.COM®, is the most ambitious professional skydiving team in the world. The team has a roster of more than twenty-nine active members, with a collective of more than 300,000 skydives. Team Fastrax™ has performed exhibition skydives all over the world for audiences large and small as a patriotic display or as product promotion.
ABOUT SELECTiON.COM®
SELECTiON.COM® is a nationwide provider of criminal and pre-employment background screenings, also referred to as a Consumer Reporting Agency. Headquartered in Cincinnati, OH, SELECTiON.COM® is a veteran-owned company that has been in business since 1991 and offers more than 35 background and data collection services.