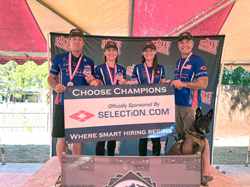 ELOY, Ariz. (PRWEB) November 02, 2021
On 10/28/21, the Team Fastrax™ 2-Way Sequential Skydiving Team from Middletown, Ohio won the Gold Medal at the 2021 United States Parachute Association National Championships. This year is the qualifier to make the United States Parachute Team, whose members will compete at the 2022 World Championships.
The Team Fastrax™ 2-Way team consists of Nicole Condrey- Middletown, Ohio and Yuliya Pangburn-Casa Grande, Arizona. Videographer/Alternate John Hart-Middletown, Ohio and Brian Pangburn-Casa Grande, Arizona
2-Way Sequential Teams consists of 2 skydivers, supported by a team videographer. They have 1 minute of working time to complete a pre-determined series of formations. A point is scored for each formation correctly completed in accordance with a draw made at the start of the event. The competition consists of 8 rounds, and within each round there are 5 different formations. The team must complete the series as many times as possible during the working time.
ABOUT TEAM FASTRAX™
Team Fastrax™, based in Middletown, OH, is the most ambitious professional skydiving team in the world. The team has a roster of more than twenty-nine active members, with a collective of more than 300,000 skydives. Team Fastrax™ has performed exhibition skydives all over the world for audiences large and small as a patriotic display or as a product promotion.
ABOUT SELECTiON.COM®
Team Fastrax™ is sponsored by SELECTiON.COM®, a nationwide provider of criminal and pre-employment background screenings. Headquartered in Cincinnati, OH, SELECTiON.COM® is a veteran-owned company that has been in business since 1991 and offers more than 35 background and data collection services.