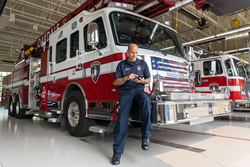 'Before using Aladtec, I spent a lot of time dealing with trade requests from members. Now they take care of their own trades. It's also very easy to check the schedule from anywhere.' -- Dpty. Chief Dale Dow, Fitch Rona Fire & EMS
ORLANDO, Fla. (PRWEB) July 16, 2019
Aladtec, the Wisconsin-based provider of cloud-based scheduling and workforce management software, will be among 69 sponsors presenting products and services to EMS and fire professionals attending the Pinnacle event at Rosen Shingle Creek, near Orlando, July 22-26.
Nearly 900 EMS agencies use Aladtec to provide 24/7 staffing coverage, swiftly fill open shifts and allow members to trade shifts, request time-off, and submit extra hours for approval. The program also includes a flexible form tool to eliminate paper forms to provide airtight documentation of routine processes.
Aladtec has more than 144,000 active users among its 2,200 subscribers across the U.S and Canada. Members access the platform from any smartphone, tablet, or desktop with internet connectivity.
"Before using Aladtec, I spent a lot of time dealing with trade requests from members. Now they take care of their own trades. It's also very easy to check the schedule from anywhere," said Dale Dow, deputy chief with Fitch Rona Fire & EMS, which serves the Dane County (WI) communities of Fitchburg and Verona. "We'll never go back to paper scheduling."
Sr. Account Executive Nick Perricelli and System Specialist Eric Hahn will offer free demonstrations of the software and answer user questions about features, such as the newly released Shared Filters which allows leaders to share selected data with qualified members readily.
Watch a short video about how Aladtec's Forms tool can streamline inspection routines here.
Aladtec, a Silver-level sponsor for the Pinnacle conference, can be seen at Booth 21. Exhibitors will be available to meet with conference attendees from 6:30-8:30 p.m., Tuesday; 10 a.m to 3 p.m., and 5-6 p.m., Wednesday; and Thursday from 7:45 a.m. to 1:30 p.m.
Pinnacle is described as a "participatory educational experience for EMS leaders. Unlike typical conferences and trade shows, Pinnacle invites sponsors and faculty to participate in roundtable discussions with attendees for true collaboration and open dialogue."
Attendees will hear keynote speaker and author David Glickman will provide a lighthearted look at how a change in perspective can help EMS leaders navigate the complex maze of local government and healthcare politics. His insights into success and living in balance will flow as he shares lessons on performance, productivity, and reinvigorating leadership passion.
The conference features a variety of presentations on a range of topics, including best practices for mid-level managers, leadership skills, risk management, best clinical practices, HR issues and privacy and data security in a hyper-connected world.
Attendees include EMS chiefs, leaders, administrators, medical directors, managers, and educators from public, private, and hospital-based organizations.
Aladtec has a number of customers near the show venue, including Clermont Fire Dept., Leesburg Police Dept., Canaveral Fire Rescue, Cocoa Beach Fire Dept., West Melbourne Police Dept., Indian River County Fire Rescue, Putnam County Emergency Services, Indian River Shores Public Safety Dept., Seminole Fire Rescue, Pinellas Suncoast Fire & Rescue District, and Manatee County EMS.
For information about their affordable industry-specific options, or to try a free demo, please visit http://www.aladtec.com.
Contact Information:
Aladtec, Inc.
387 Arrow Court
River Falls, WI 54022
(888) 749-5550
(801) 406-5550 Fax
steve(at)aladtec(dot)com
info(at)aladtec(dot)com
http://www.aladtec.com