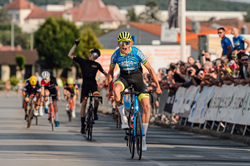 "We are all excited to welcome Matyáš to the Team Novo Nordisk family and to help him develop and reach his full potential," said Vassili Davidenko, General Manager of Team Novo Nordisk.
ATLANTA (PRWEB) November 01, 2021
Team Novo Nordisk, the world's first all diabetes professional cycling team today confirmed the signing of Czech U-19 road champion Matyáš Kopecký through 2023 with the focus firmly on development for the young all-rounder.
Kopecký missed out on double championship titles by only three seconds, after finishing in second place in the individual time trial only two days before the 18-year-old stormed to victory in the road race.
Born in Rotterdam but representing the Czech Republic due to his Father's side of the family, Kopecký started cycling at the age of eight and quickly fell in love with the bike. Coming from an active family with both his brother and sister also riding at elite level, Kopecký started out racing cyclocross before switching to the road.
"Signing for Team Novo Nordisk is surely one of the best things to ever happen to me," said Kopecký. "I have dreamed of becoming a professional cyclist all my life, and now my dream is coming true. The hard work has paid off and I am more motivated than ever to ride my bike. This is a huge opportunity that I want to take with both hands."
"Until last season I was primarily focussing on cyclocross, where I managed some nice results in youth categories. But this past season my focus shifted to the road. I managed to do well in some big U-19 stage races and also won the Czech national road championship. Competing on the road is now my full priority."
First coming to the team's attention at this year's Talent ID camp in Caen, France. Kopecký quickly confirmed his potential with his results on the road at both the World and National Championships.
"Matyáš is new to the program," began General Manager Vassili Davidenko. "He joined us at our Talent ID camp this summer and really impressed. We knew about his potential from his record racing cyclocross, but he blew us away less than two months after the camp by placing 18th in the junior world's road race, winning the U-19 Czech nationals and coming so close to the double with second in the time trial."
"We are all excited to welcome Matyáš to the Team Novo Nordisk family and to help him develop and reach his full potential. He is still very young, only 18-years-old and there will be a lot of work involved to help him reach the next level, but he is very determined and focused which is great to see and we are confident that we can help him every step of the way."
Diagnosed with Type 1 Diabetes when he was 15 years old. Kopecký has not let it hold him back. Fortunate to be surrounded by a strong group of supportive family and friends, his first thoughts were "what about my cyclo-cross race at the weekend?!"
Educating himself on how to manage and live with diabetes, it was only a short time after that Kopecký learned about Team Novo Nordisk and the amazing story of co-founder and CEO Phil Southerland and the inspirational athletes who compete around the world striving to change diabetes and carry their message of empowerment.
"After I was diagnosed, I immediately started to read everything on the internet about diabetes and cycling," said Kopecký. "Quite quickly the name of TNN popped up. Me and, especially my Dad, read everything about the team and its goals. All the stories of the riders and also Phil Southerland were very special to read and taught me that everything is still possible, and that I do not have to give up on my dream of becoming a professional cyclist."
"My first season will be a transition from the junior category to racing at professional level. This is a big step, so I do not have major expectations in terms of results. I want to make progress and be useful to the team, but I feel good and eager to get started."
About Team Novo Nordisk – Racing to Change Diabetes
Team Novo Nordisk is a global all-diabetes sports team of cyclists spearheaded by the world's first all-diabetes professional cycling team. In 2012, Phil Southerland, co-founder and CEO of the team, and global healthcare company Novo Nordisk, came together to create Team Novo Nordisk, based on a shared vision to inspire, educate and empower people around the world affected by diabetes. For more information, go to http://www.teamnovonordisk.com.
Media Contact:
Tim Lindley
tim.lindley@teamnovonordisk.com
+1-803-762-4713 (US)
+39 3911106499 (Italy)