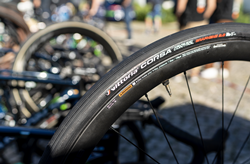 "Vittoria's tires have graced the professional peloton for decades. We are very happy that our riders will get the benefit of that quality for the upcoming season and we're looking forward to a long and successful working relationship," said Vassili Davidenko, TNN General Manager
ATLANTA (PRWEB) December 27, 2022
The world's first all diabetes professional cycling team is proud to confirm that its riders will race on Vittoria tires in 2023 with Team Novo Nordisk pleased to partner with the prestigious Italian brand.
"Vittoria's tires have graced the professional peloton for decades," said General Manager Vassili Davidenko. "The years of experience and technical knowledge they have accumulated mean that Vittoria are consistently at the apex of cutting-edge technology and developments."
"We are very happy that our riders will get the benefit of that quality for the upcoming season and we're looking forward to a long and successful working relationship."
Vittoria was formed in Italy in 1953 with an initial focus on pro-performance road tires, digging deep into the heart of their Italian roots to develop tires for some of the most successful riders and teams in the history of cycling.
A relentless pursuit of the next material, next technology, and the next level of design and performance has seen Vittoria remain a market leader 70 years later with ranges in every different pursuit cycling has to offer.
"We are happy to work alongside Team Novo Nordisk: It's a reality of the highest level with a unique character and purpose," said Vittoria Global Marketing Director Bruno Tecci. "We have a lot in common in terms of mentality. Our "The Ride Ahead" - which even before being a brand positioning is a way of thinking - finds a beautiful embodiment in the stories of these riders and this team."
To learn more about Vittoria, visit https://www.vittoria.com/
___
About Team Novo Nordisk
Racing to Drive Change in Diabetes
Team Novo Nordisk is a global all-diabetes sports team of cyclists spearheaded by the world's first all-diabetes professional cycling team. In 2012, Phil Southerland, co-founder and CEO of the team, and global healthcare company Novo Nordisk, came together to create Team Novo Nordisk, based on a shared vision to inspire, educate, and empower people around the world affected by diabetes and promote a healthy and active lifestyle.
Watch Ride for Your L1fe, Team Novo Nordisk' documentary, here.