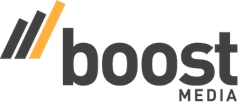 San Francisco, CA (PRWEB) December 15, 2014
Boost Media, the world's first cloud-based creative optimization platform, today announced that it is looking to fill dozens of open positions on its development and engineering teams, following the company's recent receipt of $19 million in Series C funding. Boost is seeking to recruit and hire talent in up-and-coming tech hubs throughout the country including New York, Los Angeles, Chicago, Miami, Dallas, Austin and its home base of San Francisco.
By innovatively blending machine-learning algorithms with a curated network of human writers and designers, Boost Media optimizes digital marketing like never before. With the Boost Cloud™, marketers can generate ad copy at scale and test new creative strategies to drive engagement and performance. In other words, digital marketers can finally understand not just which creative strategies work, but also why. With business partners including Google, Yahoo!, Kenshoo, Adobe, Optimizely and Marin Software, the company recently celebrated the remarkable milestone of $1 billion in paid search ads optimized for 100+ leading, enterprise-level global brands.
Joining Boost Media provides engineers a unique opportunity to solve a huge problem in the current marketplace, make a significant impact in a collaborative team environment, and be part of the creation of "creative optimization," an entirely new category Boost Media is defining in the digital marketing industry. The company is looking to fill all roles in its development team to help elevate Boost's SaaS platform to the next level to support its growing book of enterprise customers with their business needs. This includes data, front end, back end, and quality assurance engineers.
In addition to extensive benefits such as medical, dental, vision, 401k and competitive salaries, Boost employees receive a wide range of Silicon Valley-style perks that go far beyond the expected, including unlimited vacation days, equity options and more.
"The momentum continues at Boost Media and we are incredibly excited to soon add many additional A-players and problem solvers to our passionate and collaborative team," said Boost Media Founder and CEO David Greenbaum. "We work hard to create an atmosphere that fosters growth and ingenuity, which I know has been key to our continued success. If you're looking for your average development position, then look elsewhere. But if you're interested in a one-of-a-kind opportunity to contribute to an innovative product at the forefront of an emerging new market, then Boost may be just the place for you."
For more information on Boost Media's available engineering positions, please visit http://boostmedia.com/boost-engineering.
About Boost Media:
Boost Media, the leader in creative optimization, has delivered more than $1 billion in optimized digital ads for leading brands. Using the Boost Cloud, a SaaS platform built for advertisers and agencies, marketers can source, test and optimize ad creative across search, social, display, and mobile. Boost also provides unprecedented insights that let marketers pinpoint which creative strategies are working and why. Based in San Francisco, Boost is used by more than 100 leading global brands to drive performance and mindset. To learn more about Boost Media, visit us at http://www.boostmedia.com.