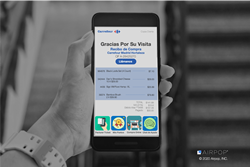 Airpop offers companies from all sizes, to easily integrate the e-Receipts service cloud and open the possibilities for consumers to choose between printed receipt or digital one. The digital landscape within the receipt is limitless & completely customized at the companies' specs" - Angel Cisneros
PALO ALTO, Calif. (PRWEB) March 10, 2020
In a world where digital experiences are flourishing, purchase receipts seem to be two steps behind as thermal paper is still a reality. Airpop is tackling this problem with a solution that allows retailers simply ask their customers "printed or mobile", significantly reducing paper consumption while simultaneously generating consumer analytics that bring personalized shopping experiences.
Artificial intelligence in consumer analytics is not new, there's a reason why you're able to get content suggestions in platforms like Netflix or similar product recommendations in Amazon. The importance of identifying these kind of patterns through deep learning has become extremely important for businesses, so much that according to research, an estimated 35% of total sales are a direct result of this intelligence. This is something tech company Airpop has been working on for the last 13 years.
Airpop (which stands for Air Proof of Purchase) delivers mobile digital receipts to consumers around the world through their e-receipt and Ai platform. In 2019 alone, the company delivered over 9 billion e-receipts in 51 countries. "It's not just the e-receipt we provide to the end user, enterprises now have in the receipt itself a huge digital space where our data intelligence algorithms indicate the business the type of interactions that the consumer prefers. This translates into understanding your customers better and in real time without being invasive. Our tech is based in behavioral understand-and-adapt protocols, harnessing once anonymous data that would only serve businesses for inventory and statistical purposes. All that data interpretation benefits consumers and prevents useless, aggressive advertising" stated Jesus Cisneros, Airpop's Founder and President of Communications.
Founded by mobile messaging industry veterans Jesus & Angel Cisneros, Airpop transforms traditional printed receipts into rich content communications that enhance consumer experiences. Airpop is integrated into the business' POS (Point of Sale) software, generating smart consumer & behavior analytics that can be combined with IT tools already adopted by enterprises.
The obligated question is, why have digital practices not been able to substitute paper slips?
On the subject, Angel Cisneros, also Airpop founder explains: "Most of the POS solutions currently in use were developed in the late 90's early 2000's, and were created without mobile or digital experience in mind. When we first started, we realized big retail companies were sceptic on how our e-receipts solution could be part of their daily operations without having to execute huge changes in their entire infrastructure. We understood that and focused into creating something that could be integrated seamlessly in the retailer's IT ecosystem and work flawlessly".
Airpop delivers purchase receipts using technology that consumers are already familiar with, giving e-receipts a familiar face. "We have multichannel instant-delivery capabilities using SMS, vSMS, RCS, WhatsApp and Telegram. That makes every single mobile user in the world capable to change from printed to digital without hassle. The receipt contents are delivered through browser together with engagement sections such as surveys, share-and-earn buttons, loyalty programs, or whatever the business desires to maximize their consumers' experience. In Latin America, banks are using Airpop for digital ATM receipts where they also offer credit card applications or even instant loans. Our clients have proven the benefits of the technology and inform us their numbers are growing as never before" says Jesus Cisneros.
Their service was first launched in Spain, France, Netherlands and Mexico, where Airpop has been able to open doors in hypermarkets, convenience stores, banks, and even governments using the technology for smart cities certifications. All this following the eco trend in green and clean initiatives. Their expansion strategy since has been focused in the rest of Latin America and Asia accomplishing the usage of their technology in Ecuador, Argentina, Chile, Colombia, Japan, China, and India.
Personalized experiences are in the rise. State of Marketing Report from Salesforce, sheds true light over Artificial Intelligence to transform marketing efficiencies and will be a game changer when begins being used as it will consist on harness and funnel all the consumer data to provide with incredibly elevated consumer experiences not seen today.
Airpop reports an exhaustive market study was performed in Mexico, United States and Brazil, where 78% of mobile users stated that advertising they get from their favorite brands (as a consequence of buying or non related) is quite generic and in most cases unrelated. Augusto Lozada, head of engineering in Airpop explains "It's pointless to try to build an actual bond when a client walks the door into your business (physical or digital) which by the was has already cost you, to decelerate interactions by simply issuing them either paper or digital receipts without seeking for something else with serious added value and an element that says – our business understands you and in return we will take better care of you as a consumer".
Airpop is leading the e-receipt revolution in alliance with Google, who plays an important role as Verified SMS, the tech giant's verification technology is the preferred channel to deliver purchase receipts from the verified retailers identity.
As reported by Green America, head of the Skip the Slip movement, in the US alone, the thermal paper industry consumes over 3 million trees, 9 billion gallons of water, and generates a CO2 footprint that equals over 450,000 cars on the road. Green America also informs that health related issues concerning thermal paper are important considering that Bisphenol A and Bisphenol S is used on manufacturing it. Human contact with these two chemicals is linked to serious health risks such as reproductive inhibition, diabetes type 2 and thyroid conditions.