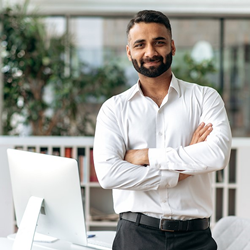 For many organizations, the prospect of collecting and submitting data for pending litigation can prove daunting. But enhancing internal data processes with the right technology brings eDiscovery time and cost savings."
HOBOKEN, N.J. (PRWEB) November 03, 2022
Messaging Architects, an eMazzanti Technologies Company and eDiscovery technology expert, explains how to generate eDiscovery time and cost savings in a new article. The informative article first poses the scenario of an organization scrambling to respond to a data request without an understanding of what sensitive data exists and where to find it.
The author then explains the difference between structured and unstructured data, asserting that the bulk of relevant eDiscovery data is unstructured. He relates that properly indexed and classified data means that the legal department can quickly find the necessary information.
Thus empowered, staff can mount an agile response to data requests, and inform early case assessment, enhancing eDiscovery time and cost savings. He concludes by explaining how the right technology and experts ease the process of indexing and organizing unstructured data.
"For many organizations, the prospect of collecting and submitting data for pending litigation can prove daunting," stated Greg Smith, Vice President of Services Delivery at Messaging Architects. "But enhancing internal data processes with the right technology brings eDiscovery time and cost savings."
Below are a few excerpts from the article, "Tech-driven Internal Data Processes Deliver Significant eDiscovery Time and Cost Savings."
Critical Internal Data Processes that Streamline Litigation
"For instance, most legal departments do not have a full understanding of the data the organization holds and where it lives. They need to gain this understanding long before a data request arrives. A key step involves taking an inventory of data in the system, developing a map of the types of data, where they are stored and who owns them."
Early Data Assessments Deliver eDiscovery Time and Cost Savings
"When companies understand the state of their data, they know where the data lives, the quality of the data, who owns it and how to access it. This allows them to mount an agile response to data requests, and it informs early case assessment. With the right data on hand, they can estimate the impact and the cost of full litigation and determine strategy appropriately."
"Additionally, eDiscovery typically represents the most expensive and time-consuming part of litigation. But if the organization can easily eliminate data not applicable to the case, they significantly reduce the amount of information to process enhancing eDiscovery time and cost savings."
Harness Technology
"Designing and implementing a comprehensive data governance strategy delivers essential benefits for eDiscovery, compliance, and other business processes. But building the necessary culture and processes is a complex task. Fortunately, technology can help."
Involve Data Governance Experts
Business leaders who enlist the help of data governance experts to help organize their data take a proactive approach to eDiscovery. The consultants at Messaging Architects help them determine next steps and deploy the data management and eDiscovery technology that will prepare the organization for legal challenges.
Have you read?
Protect Business from Risky App Usage with Microsoft Defender for Cloud Apps
Compliance Program for Microsoft Cloud Offers Personalized Services to Address Compliance Risk
About Messaging Architects
Messaging Architects specializes in effectively managing and securing an organization's most precious asset, its information. With over 20 years of information management and technology consulting experience, the Messaging Architects team has provided corporations, educational intuitions, health care facilities and nonprofits with methodologies, procedures, and technology to keep their data organized, compliant and secure.
About eMazzanti Technologies
eMazzanti's team of trained, certified IT experts rapidly deliver increased revenue growth, data security and productivity for clients ranging from law firms to high-end global retailers, expertly providing advanced business cyber security, retail and payment technology, digital marketing services, cloud and mobile solutions, multi-site implementations, 24×7 outsourced network management, remote monitoring, and support.
eMazzanti's consistent growth landed them on the Inc. 5000 list 9X. Recognized as a 4X Microsoft Partner of the Year, the #1 ranked NYC area MSP, NJ Business of the Year, and 5X WatchGuard Partner of the Year, the company excels as a trusted outsourced IT partner! Contact: 1-866-362-9926, info@emazzanti.net or http://www.emazzanti.net Twitter: @emazzanti Facebook: Facebook.com/emazzantitechnologies.