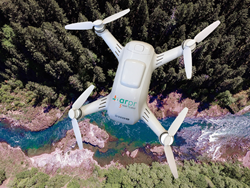 We go into each client engagement with a desire to be a long-term partner that is recognized for consistently providing value and an understanding of business objectives.
ATLANTA (PRWEB) September 27, 2018
ARPR, a tech public relations agency that propels global leaders to #MakeNews and #DriveLeads, today announced that it is breaking the PR industry average for client retention in 2018. In 2017, the industry average client-agency relationship remained at a record low of less than three years. Bucking this trend, ARPR has already celebrated eight client anniversaries this year with innovative private and public technology companies – several of which are three, four and five-year relationships.
The Future of PR Depends on Strong Client-Agency Relationships:
ARPR is on a mission to redefine the PR industry, and set the course for the future of PR, by elevating the role an agency fills for its clients. Through Panorama, the agency's six-phase approach to client service, ARPR successfully integrates lead generation, content marketing, social media and traditional public relations, such as media relations, messaging, speaking and awards, into robust communications strategies that push the limits of what a PR firm can achieve. This panoramic approach has propelled ARPR to foster deep-rooted relationships with clients built on trust, enthusiasm and a unique ability to help hit sales and marketing KPIs on a regular basis.
As ARPR celebrated its sixth anniversary this year, it recognized five-year clients by gifting customized drones and three-year clients by gifting embroidered robes and slippers. ARPR's three-four- and five-year clients include:

5 Years: Azuga (San Jose, Calif.) – Azuga is a leading global connected vehicle platform that turns data about vehicles into intelligence that improves operations and safety while reducing costs and risk.
4 Years: Sovos (Boston) – ARPR's relationship with Sovos, a leading global provider of software that safeguards businesses from the burden and risk of modern tax, dates back to 2014, when it was the Agency of Record for Invoiceware International, which was acquired by Sovos in 2016.
3 Years: Prevedere (Columbus, Ohio) – Prevedere is an industry insights and predictive analytics company, helping business leaders make better decisions by providing a real- time view of their company's future.
In addition to the aforementioned clients, five leading tech brands spanning cybersecurity, Health IT and mobility have also renewed for a second or third year – resulting in a 100% renewal rate to-date in 2018.
"There is nothing more important to us than client satisfaction and ultimately client retention," said Evan Goldberg, ARPR's vice president of client service. "We go into each client engagement with a desire to be long-term partner that is recognized for consistently providing value, fresh ideas, excitement and an understanding of business objectives. We look forward to continuing to set the bar for excellent client relationships and celebrating more anniversaries in the future."
How can you select a tech PR agency that has the prerequisites to serve as a partner for the long-term? Download our whitepaper, Rethinking the RFP Process: How to Select a Tech PR Partner to Push the Limits, to find out more.
About ARPR
ARPR is a tech PR agency that propels leaders to #MakeNews and #DriveLeads. With offices in Atlanta and New Orleans, ARPR is pioneering the Future of PR through Panorama, its holistic approach, which pushes the limits of a what a public relations agency can achieve. Since 2012, ARPR has twice been named Small Agency of the Year, dubbed a Best Place to Work five times and was honored as the 2016 Technology Agency of the Year. For more information on ARPR clients and services, visit http://www.arpr.com and follow @AR__PR on Twitter and Instagram.