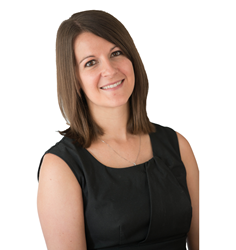 The addition of Melissa is a tremendous boost to our HealthIT Practice Group's subject matter expertise and our agency's leadership bench.
ATLANTA (PRWEB) April 07, 2020
ARPR, an award-winning tech PR agency at the epicenter of the future of PR, today announced the hiring of Melissa Baratta to the newly created position of vice president, HealthIT Practice Group. Baratta comes to ARPR after eight years with Affect, Inc. where she most recently served as SVP, Healthcare Lead. In her new role, Baratta will oversee one of ARPR's fastest-growing practice groups, which currently serves a diversity of healthcare clients through its Panorama Approach within electronic health records, telehealth, patient engagement, and population health management, among other sectors of medtech.
"I am thrilled to bring my healthcare tech PR and marketing expertise to a growing PR agency at the forefront of redefining what public relations can achieve for its clients," said Baratta. "It's an incredible time to be working in support of companies that are pioneering innovations specifically to improve people's lives. I look forward to building on the great work already done by ARPR's HealthIT Practice Group, and helping it soar to new heights."
Baratta brings 15 years of deep B2B and B2C healthcare technology experience representing clients such as Quest Diagnostics, GlaxoSmithKline and Curable. Her work has concentrated on customer-focused communications supporting brand awareness and education, helping companies to raise their profiles and position them as thought leaders. With a passion for developing creative strategies to help brands communicate with their audiences in thoughtful and compelling ways, Baratta has helped her clients secure prominent stories in publications such as the New York Times, Wall Street Journal, Bloomberg and TechCrunch.
"The addition of Melissa is a tremendous boost to our HealthIT Practice Group's subject matter expertise and our agency's leadership bench," said Anna Ruth Williams, founder and CEO of ARPR. "She has hit the ground running - helping our healthcare clients navigate COVID-19. Some of these clients are developing new tools to address the country's public health needs, while others are seeing unprecedented demand for products, like telehealth. Melissa's decades of expertise have delivered immediate value to our clients during today's unique healthcare environment."
Q1 2020 New HealthIT Clients & Renewals
ARPR also announced today the addition of Birmingham, AL-based RxBenefits to its HealthIT portfolio. Founded in 1995, RxBenefits is the employee benefit industry's first and only technology-enabled pharmacy benefits optimizer (PBO). The company focuses exclusively on helping employee benefit consultants, and their self-insured clients, access and deliver an affordable, best-in-class pharmacy benefit. To date, RxBenefits boasts over 500 employees and has an astounding 96% client retention rate.
"We selected ARPR because of its subject matter expertise and integrated approach to health tech PR," said Kyra Hagan, vice president of marketing, RxBenefits. "Having been an ARPR client at my previous company, I know first-hand how valuable their hands-on partnership is. We're excited to see the output of our collaboration over the coming months."
Additionally, existing ARPR client Rimidi, the leading cloud-based software provider for clinicians treating diabetes, cardiovascular disease, heart failure, nonalcoholic fatty liver disease and obesity, extended its relationship with ARPR for a second year at the beginning of 2020. In March, the company announced an EHR-integrated COVID-19 screening application for health systems to flag patients with possible Coronavirus symptoms, enabling health systems to mitigate the spread and optimize treatment.
Since 2012, ARPR has won 10 awards for its work on behalf of its health tech clients. Moreover, the leading tech PR firm has been named a two-time grand prize finalist in Ragan's Health Care Agency of the Year contest. Click here to see how ARPR helped one AI-based healthcare company land 136 media placements in one year, resulting in a PRovoke SABRE Award for MedTech Campaign of the Year in 2019.
About ARPR
ARPR is an award-winning tech PR agency at the epicenter of the future of PR. Headquartered in Atlanta, ARPR helps its clients' reputations thrive and their sales pipelines prosper through highly integrated marketing strategies that push the limits of what a public relations firm can achieve. Since 2012, ARPR has twice been named Small Agency of the Year, dubbed a Best Place to Work six times, was honored as the 2016 Technology Agency of the Year and the 2018 Agency that Gets Results. For more information on ARPR clients and services, visit http://www.arpr.com and follow @AR_ _PR on Twitter and Instagram.