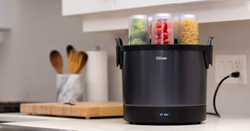 "With Oliver, we are taking stovetop cooking to a whole new level," says founder of Else Labs, Khalid Aboujassoum.
OTTAWA, Ontario (PRWEB) September 28, 2020
Else Labs announces the launch of its first smart cooking appliance, Oliver, on Indiegogo. Using the latest in engineering, technology and AI, Oliver delivers precision-perfect cooking. Oliver is not a slow cooker. It's a smart cooking robot that's a recipe library, meal planner, shopping assistant and expert chef all in one.
Oliver features five top-loading jars, a back-loading water tray, two side handles and a mixing arm that sits in the middle of the machine. Its patented automated dispensing and mixing technology allows each ingredient in every meal to be cooked at the perfect temperature, for the necessary time and with the right technique.
Simmer sauce. Boil pasta. Bake cakes. Cook oatmeal. Make jam. Poach pears. Braise stews. Stir-fry curries. All with one unique appliance. No meal kits, no subscriptions, no monthly fees. Just simple step-by-step prep instructions and a fully automated cooking process using multiple techniques that lets you step away from the stove and still enjoy a home-cooked meal.
Here's how Oliver works:
Explore. Browse Oliver's robust app for a recipe you'd enjoy. Choose from our own delicious chef-designed meals, community recipes added by users worldwide, or even create your own.
Load. Oliver's app includes clear start-to-finish directions to portion fresh ingredients. Fill the jars for cooking and Oliver will automatically release ingredients (and water!) at the right time and right heat to ensure perfect results.
Tap. One tap in the app and you can leave the kitchen. Oliver manages the entire process so you can reclaim the time spent cooking and will notify you when your meal is ready.
There's nothing on the market like Oliver. To perfect the smart appliance, CEO and founder of Else Labs, Khalid Aboujassoum and his team at his Ottawa-based company, Else Labs, have worked through five versions of the unit to get it right.
"With Oliver, we are taking stovetop cooking to a whole new level," says Aboujassoum. "This is no slow cooker. It's a smart stove with a bank of hundreds of recipes and thousands more to come. Any dish can be made in Oliver—exactly the same, every time," he says. "We built Oliver to capture an expert chef's talent, timing and technique—in frying, steaming, sautéing, mixing, braising and stirring—in one smart cooking robot."
With the Oliver, college kids can easily make home cooked food while they're away at school. Grandma's recipes can be perfected and shared and would taste just like she made it. Meal preppers can prepare food in bulk without being in the kitchen. Eating well has never been so easy.
Oliver's Key Features:
1. Ingredient cooking optimization via patented automated dispensing technology
2. Ever-expanding library of recipes
3. Fits in any kitchen
4. Fully automated, hands-off cooking
5. Internal stirring arm
6. Macronutrient tracking
7. LED screen
8. Precision modulated heating
9. Companion app
10. Simple clean up
Oliver comes standard with one solid anodized aluminum unit, five BPA-free plastic jars and one water tray, an injection-moulded high-density polymer mixing arm and a companion app (iOS and Android). It will be available on Tuesday, September 29, 2020 on Indiegogo for a limited early bird price of $529 USD. Indiegogo special pricing will be $579 USD and it will retail for $1,029 USD.
About Else Labs
Else Labs is passionate about fusion—blending modern technology and quality, home-cooked food. We believe that every kitchen—and every cook—deserves the best. We're building the smart appliances of the future. Our journey begins with Oliver, a smart cooking solution that combines expert technique, kitchen-tested recipes and sleek, modern design. Our Ottawa-based team is dedicated to helping busy households embrace the ideas: more flavour, more freedom.