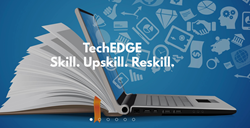 The "courses" you take in the future will bear little resemblance to classrooms of today. Dr. Sue Raftery, Founder, TechEDGE
NORWALK, Ohio (PRWEB) May 07, 2020
AgTechEDGE, an educational technology company focused on training and skills development today announced an expansion into the broader workforce readiness market by releasing a library of 1,100 micro-courses, available by subscription. Oriented to improving knowledge and skills across a variety of disciplines, these university-generated micro-courses are available to individuals, companies and schools as a supplemental resource for those who find themselves with extra time to explore new skills and new careers. The individual micro-courses can then be stacked together to build credentials to help individuals in their economic advancement, career progression and individual development.
TechEDGE was created by Dr. Sue Raftery, a pioneer in online learning and founder of AgTechEDGE a company founded to serve the training needs of the indoor agriculture industry. "With so many people now out of work and out of their classrooms, we decided to pivot and enter into the content business" says Raftery. "We are entering an era defined by digital connectivity, digital gatherings and digital learning. Our personal and professional productivity is now found at the intersection of technology and human expertise/skills. Learning is no longer a "time out" activity, our learning loops are continual and lifelong. The "courses" you take in the future will bear little resemblance to classrooms of today. Learning comes in bit sizes and now, if you have 15-minutes, you can be a learner."
The TechEDGE model encourages the learning to become continuous, experiential, regularized and routine. The courses range from 1 – 5 hours in length, some are concise reads and others recorded lectures, all from university professors. Access is unlimited and offered to individuals on a monthly subscription or to companies and schools as a supplemental benefit through a bulk license with TechEDGE.
Helping guide TechEDGE is Gordon Garrett who got to know the company in his role at the Kentucky Small Business Development Center and who has been working to bring Dr. Raftery's advanced digital learning initiatives forward. Garrett sees a growing need not just for micro-courses, but micro-credentials which are digital certification that ratifies a learner's competency in a specific area of expertise. Garrett says "working with small businesses, I see a strong desire for a skilled workforce, but few resources tailored to ongoing, bit-sized education with measurable outcomes. What I like about TechEDGE" is its low-cost and focus on workplace skills, allowing for individuals to rise without aggressive oversight. I believe that micro-credentials or badges are going to be very valuable in future hiring and promotion decisions."
The company's promotional material encourages its subscribers to make learning a habit and believes that learning is a continuous and everyday process. It encourages employers to offer the platform to employees to give their workforce a competitive edge and to reinforce their commitment to being agile and ready for the future. For schools, the content in the library becomes a supplemental resource to help with student engagement, helping them with much needed material while they work to improve their digital infrastructure.
To learn more about TechEDGE, visit TechEDGEweb.net
About TechEDGE
With a founding vision of "Building Skills to Feed the World" online education pioneer Dr. Sue Raftery started AgTechEDGE, personalized learning at large scale. Now part of TechEGE, a learning platform that adapts to what students already know, the company is designed to help vocational and technical training serve today's learners. TechEDGE fills the need for skilled workers and supports their on-going training needs with a library of existing course material or the ability to adapt customer material to their innovative, engaging and adaptive learning environment