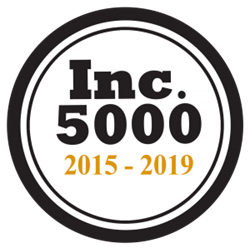 It's been another great year for TechLink Services as businesses accelerate and fund digital transformation initiatives. We're excited to be a part of the growing delivery services industry and honored to rank on the 2019 Inc. 5000 list. —Mike Mudd, TechLink Services, CEO and Founder
BEND, Ore. (PRWEB) September 05, 2019
For the fifth year, TechLink Services, a digital strategy and installation provider implementing general and complex solutions for digital signage, self-service kiosks, telephony/VoIP, enterprise networks, and security systems, was named on the Inc. 5000 list. According to Inc. Magazine, TechLink placed among an elite group of the nation's fastest-growing private companies to rank for five years in a row. The Inc. list represents a unique look at the most successful companies within the American economy's most dynamic segment—its independent small businesses. Microsoft, Dell, Domino's Pizza, Pandora, Timberland, LinkedIn, Yelp, Zillow, and many other well-known names gained their first national exposure as honorees on the Inc. 5000.
"It's been another great year for TechLink Services as businesses accelerate and fund digital transformation initiatives. We're excited to be an innovative leader in the delivery of field services and to see our company rank among the fastest-growing private companies in America," says Mike Mudd, TechLink Services and Broad Sky Networks, Founder and CEO. "Credit goes to our TechLink teams who work hard to deliver digital installations that range from routine services to highly complex solutions—even in extremely remote locations."
Digital Transformation is now a necessity for organizations to stay competitive and meet rising customer expectations. TechLink helps businesses by managing digital installations ⁠—starting with custom-selected field service teams for every project. To keep clients updated in real-time, technicians and electricians use TechLink's custom portal (SIMPLE) and mobile app (MOBI) to send visual and text updates until the project is completed. Selecting the right team, real-time communication, and projects delivered on-time and on-budget are critical for TechLink clients digitally transforming their businesses.
"The companies on this year's Inc. 5000 have followed so many different paths to success," says Inc. editor in chief James Ledbetter. "There's no single course you can follow or investment you can take that will guarantee this kind of spectacular growth. But what they have in common is persistence and seizing opportunities."
About TechLink Services
TechLink Services provides installation services, including full project management and strategic consultations, for general to highly complex digital projects. We are a nationwide provider with offices in Bend, Oregon, Asheville, North Carolina, Lincoln, Nebraska, and Kansas City, Kansas, and a nationwide network of 3,800 technicians and electricians. TechLink is a proven industry leader with over 170,000 successful installations, earning them a spot on the Inc. 5000 list, ranking among only 4% named on the list for five consecutive years. Key to TechLink's success is our custom MOBI app, available on the Apple and Google Play store. The MOBI app provides customers, TechLink project management, and field technicians with real-time visual, text, and reporting for every installation project. Our customers rely on our expertise to install the latest digital applications, including digital signage, self-service kiosks, telephony/VoIP, enterprise networks, and security systems. You can reach TechLink at info@techlinksvc.net or follow us on LinkedIn.
More about Inc. and the Inc. 5000 Methodology
The 2019 Inc. 5000 is ranked according to percentage revenue growth when comparing 2015 and 2018. To qualify, companies must have been founded and generating revenue by March 31, 2015. They had to be U.S.-based, privately held, for profit, and independent—not subsidiaries or divisions of other companies—as of December 31, 2018. (Since then, a number of companies on the list have gone public or been acquired.) The minimum revenue required for 2015 is $100,000; the minimum for 2018 is $2 million. As always, Inc. reserves the right to decline applicants for subjective reasons. Companies on the Inc. 500 are featured in Inc.'s September issue. They represent the top tier of the Inc. 5000, which can be found at http://www.inc.com/inc5000.
About Inc. Media
Founded in 1979 and acquired in 2005 by Mansueto Ventures, Inc. is the only major brand dedicated exclusively to owners and managers of growing private companies, with the aim to deliver real solutions for today's innovative company builders. Inc. took home the National Magazine Award for General Excellence in both 2014 and 2012. The total monthly audience reach for the brand has been growing significantly, from 2,000,000 in 2010 to more than 20,000,000 today. For more information, visit http://www.inc.com. The Inc. 5000 is a list of the fastest-growing private companies in the nation. Started in 1982, this prestigious list has become the hallmark of entrepreneurial success. The Inc. 5000 Conference & Awards Ceremony is an annual event that celebrates the remarkable achievements of these companies. The event also offers informative workshops, celebrated keynote speakers, and evening functions.