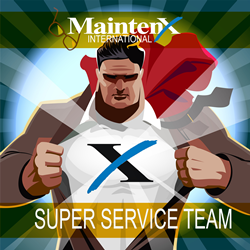 With on-site training, stellar benefits, unique onsite perks and opportunities for advancement, MaintenX creates a superior team member experience.
TAMPA, Fla. (PRWEB) January 21, 2020
The start of a new year comes with reflection, resolutions and thoughts of the future. For some, the new year also brings an opportunity to find new and fulfilling employment. Skilled technicians of all kinds will find dozens of available positions in roles from HVAC to plumbing and roofing at MaintenX International, a Tampa-based provider of superior facility maintenance.
"We strive to create a positive work environment for all our employees," said Bill Schaphorst, MaintenX's VP of Business Development. "With on-site training, stellar benefits, unique onsite perks and opportunities for advancement, MaintenX creates a superior team member experience."
According to recruiters, January is one of the best times to job search. They see more job postings in January than at any other time of year. With increased options, job seekers have more factors to consider in their job-search journey, like benefits and work culture.
"I love being a part of Team MaintenX," said MaryAnn Velez, who has been with MaintenX for more than 15 years. "MaintenX is a great company that has supported my goals and growth throughout the years. I feel lucky to work for a company that cares and alongside colleagues who are committed to providing the best service for our clients."
MaintenX team members benefit from a strong, positive corporate culture as well as best-in-class benefits. In addition to health insurance, paid vacations and an immediately vested 401k with 5 percent match, MaintenX team members enjoy onsite perks including catered lunches, a full gym, and carwash days. MaintenX also believes in contributing to the community and in 2019 MaintenX team members set a record for volunteer hours served while building a Habitat for Humanity home in Pinellas County, Fla.
"One of the most valuable aspects of our relationship with Habitat, outside of providing a home to a deserving family, is the teamwork and camaraderie created by building these homes. That's why, we are building another home this spring," said Schaphorst.
To learn more about available positions or about the facility maintenance services MaintenX offers, visit http://www.maintenx.com.
ABOUT MAINTENX INTERNATIONAL:
MaintenX International is a fully licensed, facilities repair company. As one of the largest national self-performing facility maintenance and repair companies in the U.S., MaintenX has created a wide network of knowledgeable and professional technicians throughout the country. With their team of well-trained technicians, MaintenX self-performs and manages facility maintenance for their clients. In the event there is not a MaintenX technician in an area, the company has established a network of preferred vendor partners throughout the country for continued superior service for their clients. For more than 40 years, MaintenX has been expertly serving multi-location retail stores, restaurant chains and Fortune 500 companies nationwide.