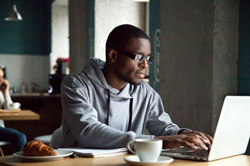 Technology continues to develop, making remote and distributed business models more efficient and conducive to locations and hours across the country.
TAMPA BAY, Fla. (PRWEB) January 27, 2020
More than 26 million Americans—about 16 percent of the total workforce—now work remotely at least part of the time, an increase of 115 percent, according to the U.S. Bureau of Labor Statistics. (1) Despite labor expert predictions that by 2025 the number will climb to 70 percent; the popular work model is experiencing challenges of its own. Karla Jo Helms, CEO of Tampa, FL PR agency JOTO PR Disruptors, took the leap six years ago to convert her staff to a completely remote model. Replacing face-time with virtual meetings and a sophisticated reporting system were adjustments in the first year—initially dropping in productivity and efficiency from 25 percent to 20 percent. "This was due to several lost hires, which equates to lost training, lost institutional knowledge and new implementation and familiarization with new managing structure/processes," notes Helms. "However, our production increased to 40 percent afterwards and continues to be stable." (2)
Working remotely doesn't suit everyone. The isolation can be challenging for workers who blossom in social settings or who lack self-motivation. It requires being a self-starter and decision maker. Also concerning to younger employees is a fear that they could be passed up for promotions, as adjudication for this includes their leadership skills, positive attitude and ability to collaborate with the team in addition to hard skills. (3) On the plus side, a decrease in office politics, drama, and disruptions paired with the lack of a daily commute have had a positive effect on the popularity of remote work. "The challenges are real. And so are the positive changes," notes Helms. "I had to adapt new technology and communication channels to achieve an overall 49 percent growth rate since 2014."
A recent survey of 285 mobile employees identified five areas of frustration: poor network connectivity, under-performing tools and software, and slow and dated devices among them. (4) How do companies with remote employees ensure that they receive the same quality of employee experience as in-office colleagues? Giving them autonomy is the key according to some HR professionals. Instilling a sense of ownership of the company through their contributions and making them responsible opens the door to a stronger company culture. (5) Helms and her Director of HR and Business Operations, Nancy Castro, realize that there's no cookie-cutter solution which is why their tools are unique to their PR business:
1. A daily and weekly reporting system that demonstrates accountability across the team, time management, and future planning;
2. Use of programs such as ZOOM for virtual meetings, TEAMS for instant messaging, SharePoint for virtual file sharing—and being open to new technology;
3. Taking advantage of the rise in co-working spaces around the country for face-to-face meetings when needed;
4. Infusing fun exercises into virtual meetings that increase speed and productivity;
5. Meetings strategically scheduled throughout the week that bring different teams together effectively;
6. Clear wording in job descriptions outlining the remote work and expectations.
Technology continues to develop, making remote and distributed business models more efficient and conducive to locations and hours across the country. (6) Says Helms, "My agency is known for its team of PR "disruptors" and true to nature, we've tackled the remote business model and used its flexibility amidst tight operational processes to find a symbiotic balance for the team."
JOTO PR Disruptors has been able to hire nationally to attract and retain a diverse talent pool and plans to incorporate more technology to streamline connectivity, accountability and coordination across teams and geographic locations. They have open positions available, or ones that become available, as they expand.
About JOTO PR Disruptors™
After doing marketing research on a cross-section majority of 5,000 CEOs of fast-growth trajectory companies and finding out exactly how they used PR, how they measure it and how they wanted the PR industry to be different, PR veteran and innovator Karla Jo Helms created JoTo PR and established its entire business model on those research findings. Astute in recognizing industry changes since its launch in 2009, JoTo PR's team utilizes newly established patterns to create timely PR campaigns comprising both traditional and the latest proven media methods. This unique skill enables them to continue to increase the market share and improve return on investment (ROI) for their clients, year after year—beating usual industry standards. Based in Tampa Bay, Florida, JoTo PR is an established international public relations agency. Today, all processes of JoTo are streamlined PR services that have become the hallmark of the JoTo PR name. For more information, visit JoTo PR online at http://www.jotopr.com
About Karla Jo Helms
Karla Jo Helms is the Chief Evangelist and Anti-PR Strategist for JoTo PR. Karla Jo learned firsthand how unforgiving business can be when millions of dollars are on the line—and how the control of public opinion often determines whether one company is happily chosen, or another is brutally rejected. Being an alumni of crisis management, Karla Jo has worked with litigation attorneys, private investigators and the media to help restore companies of goodwill back into the good graces of public opinion—Karla Jo operates on the ethic of getting it right the first time, not relying on second chances and doing what it takes to excel.
Karla Jo has patterned her agency on the perfect balance of crisis management, entrepreneurial insight and proven public relations experience. Helms speaks globally on public relations, how the PR industry itself has lost its way and how, in the right hands, corporations can harness the power of PR to drive markets and impact market perception.
1. U.S. Bureau of Labor Statistics, June 19, 2019
2. Helms, Karla Jo. "The Surprising Thing I Gained When I Switched to a Remote Workforce," Entrepreneur. 10 November 2017, Web.
3. Modi, Ankur. "The Untold Side of Remote Working: Isolation and Lack of Career Progression," Forbes. 26 December 2019, Web
4. Ciccarelli, Maura. "How HR Can Improve The Remote-Worker Experience," HR Executive, 17 December 2019, Web
5. "Updated Technology and Employee Autonomy Necessary for Remote Workforces", MountainTop Data, 22 January 2019, Podcast
6. Animashaun, Christina. "How Remote Work Is Quietly Remaking Our Lives," Vox/Recode. 09 October 2019, Web.
# # #