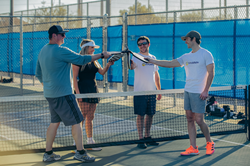 LOS ANGELES (PRWEB) February 21, 2023
Today, Pickleheads released a new technology platform for pickleball players and announced its recent fundraise. They are the first VC-backed tech company focused exclusively on America's fastest growing sport.
Pickleheads is a platform that makes it easy for pickleball players to find local courts and connect with nearby players. The company is betting that pickleball, the fastest-growing sport in the country, will continue to rise in popularity and become one of the largest sports in America. In 2022, over 36 million Americans played pickleball at over 10,320 facilities across the US.
The startup quietly raised pre-seed funding last fall from Ardent Venture Partners, Overline, and Kevin Durant's and Rich Kleiman's Boardroom Pickleball.
Sean O'Brien, Managing Partner at Overline, said, "The pickleball market is massive—it's the fastest-growing sport in the country, and no one has claimed a leadership role in the space. We think that Pickleheads has a unique opportunity to win here, and we are thrilled to support them on their journey."
Pickleheads first introduced a court finder last summer and has quickly established itself as the go-to source for court information. Thousands of players use the site every day to discover nearby courts.
The startup's new scheduling and group management tools, released today, make it easier for pickleball organizers to keep up with skyrocketing demand. They can post a schedule at each court, collect signups and even manage waitlists.
"Pickleball is experiencing an unprecedented surge in interest, but there's a glaring lack of technology in the space," said Max Ade, CEO and co-founder of Pickleheads. "We're building a digital home for pickleball players, starting with tools to find courts and organize play. Our recent funding will support our growth and aggressive technology roadmap."
The Atlanta-based startup has big plans for its technology. The Pickleheads roadmap includes flex leagues, an instructor marketplace and other tools to enhance the experience on the court.
"We are building the top online destination for pickleball players, brick by brick." says Co-Founder Brandon Mackie. "Our mission is to make it easier for players to connect and enjoy the sport they love."
Phil Bronner, Co-Founder at Ardent Venture Partners, thinks they are the right team to make it happen. "Pickleheads is a unique, community-building platform in this space. We believe that its experienced, passionate founders and world-class tech stack will make it the leading OS for pickleball."
About Pickleheads
Pickleheads is a startup building technology for pickleball players, organizers and facility owners. The company's tools make it easy for players to find local courts and organize play. Pickleheads was founded by a team of three seasoned entrepreneurs: Max Ade, Brandon Mackie and Ian Langworth.
Resources & Links:
Pickleball statistics
How to play pickleball
Pickleheads Scheduler
Pickleheads Groups
Pickleheads Court Finder