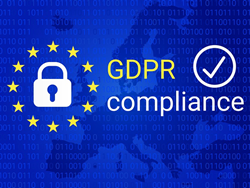 Beginning in May 2018, the EU gave regulatory agencies greater powers to act against non-compliant organizations.
HOBOKEN, N.J. (PRWEB) August 09, 2018
A NYC area IT consultant and MSP discusses how businesses can comply with the new European data privacy law, the General Data Protection Regulation (GDPR), which went into effect May 25, 2018, in a new article on the eMazzanti Technologies website. The law applies to all organizations selling to or collecting personal data about customers in the European Union (EU).
The informative article reviews the changes affecting businesses, the penalties of non-compliance and how technology providers can help organizations accelerate their response to the legislation and become GDPR compliant.
"Navigating GDPR compliance issues is not easy for business leaders," stated Jennifer Mazzanti, CEO, eMazzanti Technologies. "They might consider the help now available from Microsoft and its partners to become GDPR compliant before penalties are assessed."
Below are a few excerpts from the article, "Technology Partners Enable GDPR Compliance"
"Beginning in May 2018, the EU gave regulatory agencies greater powers to act against non-compliant organizations. Penalties include stiff fines of up to four percent of annual global revenue or 20 million euros, whichever is greater."
"Implementing a plan for GDPR compliance can prove to be complex. Fortunately, a capable business technology provider can help organizations accelerate their response to the legislation and avoid the penalties."
"Data management and discovery – The initial step is to discover personal data across your organization and protect it from unauthorized access. This includes regularly indexing and flagging sensitive data."
"Access governance – By managing user identity and access to sensitive data, organizations can more easily protect privileged activities and enforce data breach detection and notification."
Benefits of GDPR Compliance
The GDPR provides an opportunity to reevaluate and improve overall business cyber-security strategy and data management. For instance, with the findings of an audit, redundant, obsolete and trivial files will be eliminated. In addition, the transparency and responsibility demonstrated will help build more trusting relationships with customers and the public.
GDPR compliance also allows an increase in marketing return on investment. Once an opt-in policy is implemented and a data subject's consent to process their personal data is obtained, companies will be able to increase the effectiveness of their digital advertising. They can tailor messages to the specific needs and habits of a clearly defined audience that has more interest in the company's brand.
GDPR Compliance Partner
A business technology firm that is well-versed in GDPR regulations can prove to be an invaluable trusted partner in the compliance journey. The experts at eMazzanti Technologies help to broaden an understanding of GDPR compliance, identify issues that may not have been considered, help business leaders realize the myriad benefits of GDPR compliance, and direct or assist in their compliance effort.
Related resource information:
GDPR and Cybersecurity: The Future of Data Protection is Here
The Risks of GDPR Non-Compliance
About eMazzanti Technologies
eMazzanti's team of trained, certified IT experts rapidly deliver retail and payment technology, digital marketing services, cloud and mobile solutions, multi-site implementations, 24×7 outsourced network management, remote monitoring and support to increase productivity, data security and revenue growth for clients ranging from law firms to high-end global retailers.
eMazzanti has made the Inc. 5000 list eight years running, is a 2015, 2013 and 2012 Microsoft Partner of the Year, 2016 NJ Business of the Year, 5X WatchGuard Partner of the Year and one of the TOP 200 U.S. Microsoft Partners! Contact: 1-866-362-9926, info@emazzanti.net or http://www.emazzanti.net Twitter: @emazzanti Facebook: Facebook.com/emazzantitechnologies.