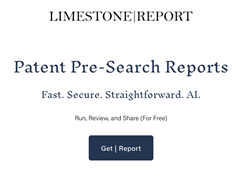 The culmination of two years of development, Limestone|Report simplifies, standardizes, and accelerates patent research for everyone.
AUSTIN, Texas (PRWEB) June 24, 2020
Techson, drafting off the recent release of its Limestone version 2.0 AI-powered platform, has delivered another industry first with the launch of Limestone|Report. L|R makes patent pre-search drop dead simple for your objective driven research needs. Whether it's patentability, prior art, landscape, or CPC classification research, you simply enter a patent publication number or a technical description into the L|R search box for fast, relevant results. L|R immediately generates and sends the report to your inbox. Need to socialize the results? Share the report link with clients and colleagues. There is no clumsy interface to learn, and the basic reports are always free.
"Most industries have automated reports that accelerate research-related activity and ultimately human-based decisions," says Luke Barbin, CEO of Techson. "Auto has vehicle history reports that accelerate vehicle research and purchasing decisions…banking has credit reports that accelerate borrower research and lending decisions. The patent industry, until today, has been devoid of similar standardized accelerants. The culmination of two years of development, L|R simplifies, standardizes, and accelerates patent research for everyone and reduces the time it takes humans to make well-informed decisions across the innovation supply chain."
What's in a Basic Report
L|R provides three powerful result sets and insights that are immediately actionable to the recipient:

Preview of 15 top results | All results are available in the paid Full Report
Predictive analytics | deep research insights and an automated research services quote
Top 10 Limestone-recommended CPC classifications | All classifications are available in paid Full Report
Upgrade to Techson's Expert Research Services
From any report, click a button to request Techson's expert research services; Techson will provide a specific research project quote within 24 hours of the request. Because Techson starts with the same L|R results you've generated, a project can be transferred seamlessly to Techson's research experts.
Limestone|Report Pricing
Basic Reports: Prior Art, Patentability, Landscape, and Classification are always free.
Full Reports (include full downloadable results): Click here
Techson is offering promotional pricing of 50% off of all reports through August 31, 2020.
About Techson
Techson was founded in 2015 in Austin, Texas by IP attorneys, research experts and technologists with a vision to more fully serve the patent, trademark and innovation industry with IP consulting and machine learning/AI automation. Techson's founders and executives have worked with and for the world's largest patent owners and law firms. Techson's researchers have conducted more than 15,000 research projects, and its 150+ clients include Fortune 500/Global 2000 corporations and Am Law 100 law firms. Its principals have also supported over $100 million in patent transactions and helped companies secure tens of millions in private equity and venture capital investments.
Learn more at: http://www.limestonereport.com
Or, contact Techson at: info@techsonip.com
#limestonereport
#relentlessresearch
#techsonip
#patents
#AI