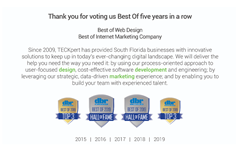 Over the past 10 years, TECKpert has supported the digital transformation efforts of some of Florida's fastest growing companies
MIAMI (PRWEB) November 18, 2019
Technology consulting and solutions firm TECKpert announced its selection as a 'Best of' award winner in two categories by the Daily Business Review – Best Internet Marketing and Best Web Design. It is the company's 5th consecutive selection by the national legal brand behind Law.com for the annual industry award. TECKpert provides technology consulting services to businesses in the legal, real estate, finance, government, and healthcare fields and has been honored with more than 30 industry awards.
TECKpert's recent 'Best of' award win joins previous industry honors, including '2019 Top Developers in Florida' and '2019 B2B Service Company of the Year' from Clutch.co; and 'Leading Website Development Company' from the South Florida Business Journal. The Daily Business Review developed its annual 'Best of Survey' to help attorneys select outstanding legal products and service providers by recognizing companies for innovation and excellence. TECKpert has been awarded Best of Web Design and Best of Internet marketing for the fifth year in a row.
"Over the past 10 years, TECKpert has supported the digital transformation efforts of some of Florida's fastest growing companies," said Adrian Esquivel, CEO of TECKpert. "We look forward to continuing to help organizations integrate new technologies and customer-centric products and services to support digital transformation. Our award-winning team is helping Florida's business reach new audiences and plan for the technology solutions of the future."
TECKpert has completed more than 250 technology and digital projects, assisting clients throughout South Florida. For example, TECKpert supported the rebranding and website redesign efforts of one of Florida's largest law firms this year. In addition, TECKpert's digital marketing team has helped Florida healthcare providers launch innovative open enrollment and brand awareness campaigns.
"TECKpert is committed to helping our clients stay ahead of the technology curve," said Esquivel. "Our team members are digital partners with our clients, providing cutting-edge technology solutions with a focus on customer service; and helping organizations grow, transform and deliver results in a digital driven world."
TECKpert's process-oriented and client-centered approach combines user-focused design, cost-effective software development, engineering solutions and data-driven marketing experience to help businesses navigate successful digital transformation efforts. The company launched new services this year, including a renewed focus on business modernization, automation, and dev operations.
In addition to project support, TECKpert provides staff augmentation services to help organizations build strong teams, match short and long-term project demands, and find the right talent match for their firm. From UX designers to software engineers and DevOps specialists, TECKpert's network of experienced design and development professionals help organizations grow and plan for the future.
About TECKpert
TECKpert delivers digital transformation solutions to meet mission critical requirements. We provide design, development, marketing and staff augmentation solutions for businesses and clients of all sizes. We build innovative digital solutions for clients from all industries, including healthcare, finance, government, legal and real estate. As long-time developers, creators and strategists, we understand what it takes to achieve success in the new economy–and we know how to identify the talent that will bolster your own team's capabilities. As you look to grow your capabilities and your digital presence, look to TECKpert. We are your digital partners.