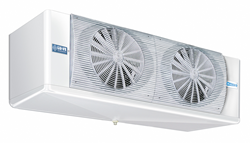 We are excited to provide systems that deliver on our commitment to sustainability while offering easy-to-service, customer-focused designs.
ANN ARBOR, Mich. (PRWEB) August 16, 2019
Tecumseh Products Company, LLC. is pleased to announce the introduction of AWEF compliant low-temperature ARGUS condensing units and a product partnership with LU-VE Group to deliver innovative, high quality unit coolers that provide superior efficiency. The Tecumseh unit coolers designed by LU-VE pair seamlessly with Tecumseh ARGUS condensing units, including the newly released low-temperature condensing units, to further enhance the Company's offerings in this space.
The LU-VE Group is one of the major global manufacturers in the air heat exchanger field. They bring a long history of creating innovative solutions and were the first European company to attain the prestigious Eurovent "Certify-All" certification for their entire lineup of products. LU-VE applies a combination of experience, tradition, forward thinking and innovation to their products making them an ideal partner for Tecumseh as we continue to provide customer-driven products to the commercial refrigeration market. The Tecumseh unit coolers designed by LU-VE provide expert craftsmanship, a superior coil design and deliver high efficiency performance in capacities ranging from 3,000-60,000 BTU/h. Most importantly, they are engineered for easy serviceability and deliver superior performance within a wide range of commercial refrigeration applications.
Tecumseh ARGUS condensing units meet or exceed the 2020 DOE AWEF regulations. The units are purposefully designed with the end user in mind to deliver easy serviceability, flexible product configurations, and highly efficient performance optimized specifically for HFO-blend refrigerants. Fan assemblies and swept fan blades are extremely quiet compared to conventional fan blade and motor combinations meeting the growing trend in LEED or WELL buildings that require improved indoor environmental quality.
The lineup for Tecumseh ARGUS has grown since the inception of the medium temperature platform with the addition of low temperature condensing units in the small and medium chassis, now available today. The low temperature models, designed for freezer applications, offer the same Tecumseh ARGUS benefits of easy serviceability, flexible configurations, and high efficiency. Within the coming months, Tecumseh will continue to release the higher capacity models in the large chassis along with more feature sets to tie into the phase-down of the current GEN III platform.
North America Director of Product Management and Applications Engineering, Kit Fransen, applauds the effort from the Tecumseh and LU-VE engineering teams in developing highly efficient and quality remote refrigeration systems for walk-ins, blast chiller/freezers, ice machines, display cases, and other applications. "The release of these products strengthens our position as a serious player in the market place. We are excited to provide systems that deliver on our commitment to sustainability while offering easy-to-service, customer-focused designs."
Many Tecumseh ARGUS units are part of the quick ship program and ready for this summer's cooling season. Please contact your Tecumseh sales or customer service representative (734-585-9500) for details.
About Tecumseh Products Company LLC
Founded in 1934, Tecumseh Products Company LLC is a leading global manufacturer of hermetic reciprocating, rotary and scroll compressors ranging in capacity from 1/15th to 30 horsepower, as well as offering a complete line of condensing units and systems for use in residential and commercial refrigeration and air conditioning applications. Tecumseh products are manufactured on four continents and sold globally through a network of sales professionals, authorized wholesalers and licensed distributors offering brand names that include: AE®, AE2®, AW®, Celseon®, L'Unite Hermetique®, Masterflux®, Silensys®, and Wintsys®. Tecumseh Products Company LLC is headquartered in Ann Arbor, Michigan.