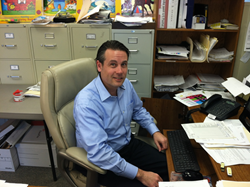 The book has led to an increase volume in our custom book development area...
Saint Louis, Missouri (PRWEB) January 22, 2014
In the series Tell the Truth – Tell it Often – Tell the Children™ by St. Louis-based publisher Really Big Coloring Books,® Inc., (RBCB), their latest publication, "Ted Cruz to the Future Comic Coloring and Activity Book," has entered its eighth (8th) week at the No. 1 (#1) spot on Amazon's most popular children's coloring and activity books. Based on revenues and updated hourly by Amazon, the Cruz book has not moved from its No. 1 debut spot since early December 2013. Company officials continue to send the Cruz book all around the U.S.A and Canada.
RBCB Chief Operating Officer Ken Rich stated, "The Ted Cruz to the Future coloring book created an unplanned impact to our year-end bottom line in a very positive manner. The book has led to an increase volume in our custom book development area, which is starting the year off with a larger number of projects than we have typically experienced at the beginning of any fiscal year in the past.
"We are excited to see a single title remain in the #1 position of Amazon's top selling coloring books for over 8 weeks. We currently, and on most days, RBCB will hold 15-20% of the top 100 selling coloring book titles on Amazon," continued Rich.
Other books in the cultural event series, Tell the Truth – Tell it Often – Tell the Children™, have covered topics ranging from the election of President Obama in 2008, The Tea Party Coloring Book for Kids, to the 9/11 books We Shall Never Forget, the Kids Book of Freedom in 2011. Says RBCB Publisher Bell, "These books are never about us or our company. The books reflect differing American values or beliefs and the books equal American jobs. We do not take positions on any title; we gather the information and lay out the facts as we find them. What we do find most entirely and consistently is that parents love their children and want them only to grow up happy and responsible. This means different things to different people, as shown in the Jan. 20th issue of Bloomberg's Businessweek 'Company Profits Trump Political Ideology' at Really Big Coloring Books®. Our company and staff shows respect for all individuals although big differences exist everywhere."
RBCB artists worked on several of the cultural event books stated, "The Company's latest title 'Cruz to the Future' coloring book has definitely cruised off of the shelves. The sales and media attention speaks for itself on this book."
From the holiday season in 2013 and well into 2014, the "Cruz to the Future" coloring book featuring Texas Sen. Ted Cruz is still No. 1 on Amazon's list for bestselling children's coloring books.
"I consider myself fortunate to have been instrumental and to have worked on the 'Cruz to the Future' coloring book project. To have my artwork 'cruzing' around several countries in such demand is truly a wonderful thing for me. I am proud to have the opportunity to have helped create this successful product."
Really Big Coloring Books®, Inc., headquartered in St. Louis, MO, is a multi-national company providing quality children's teaching and learning tools and coloring book products for over two decades. Known for their market leading positions, RBCB's family of products are classic, colorful and unique. The company owns more than 900 coloring book related domain names in several countries and is a trend-setting leader in the coloring book industry.
All the RBCB company products are manufactured in the U.S.A. by American workers.
To find out more visit: http://www.ColoringBook.com or call 314-725-1452.