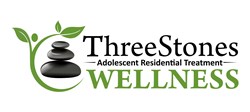 If we can help young people break the cycle of substance abuse on a deep level, not only do we bring healing to that individual, we also prevent adult addiction and abuse.
Santa Clara, CA (PRWEB) November 07, 2013
Three Stones Wellness, an adolescent residential alcohol drug abuse treatment facility offering a holistic approach for teens with substance abuse problems, announces the grand opening of its new location in Santa Clara, California on November 18, 2013. Focusing specifically on the under-met and unique needs of adolescents struggling with alcohol and substance abuse, the adolescent rehab center uses customized treatments and therapies designed to nurture the mind, body and spirit while addressing the serious nature of substance abuse at its new facility located at 1203 Las Palmas Drive, Santa Clara, CA 95051.
According to a Monitoring the Futures survey, illicit drug use amongst teens remains at a high level, largely due to the popularity of marijuana as a perceived "safe" drug. Although there are 2,400 adult treatment centers in California to address the substance abuse needs of its 38 million citizens, only nine facilities in California specialize in the treatment of adolescents. However, The National Center on Addition and Substance Abuse at Columbia University reports that nine out of 10 adults who end up addicted to drugs and alcohol started drinking, smoking or using drugs by age 18.
"Although recovery and treatment programs for adults are readily available, programs that specifically address the unique needs of teens are very rare, indicating that we do not fully understand the serious nature of underage and teen substance abuse and addiction," says Gillian Thorp and Kathryn Spelman, the adolescent drug rehab center founders. "If we can help young people break the cycle of substance abuse on a deep level, not only do we bring healing to that individual, we also prevent adult addiction and abuse. The drug and alcohol abuse rates that we experience in the U.S. begin, and can end, with our youth."
By treating the unique neurological, physical and social needs of teens and adolescents, the alcohol rehab center for teens uses a holistic approach to recovery from drug and alcohol addiction. According to The American Holistic Health Association, studies of holistic care used in conjunction with traditional addiction therapies show dramatically improved success rates over traditional therapies alone.
Using treatments provided by a dedicated staff with over 80 years of combined experience, the rehab center for adolescents in San Francisco Bay area joins traditional counseling, addiction and medical treatments with the healing therapies of acupuncture, nutritional counseling, fitness programs, art and music therapies. The resulting recovery process is unique, tailored to each individual, and addresses the medical, social, and emotional issues that caused the substance and alcohol abuse to occur in the first place.
About Three Stones Wellness:
Three Stones Wellness is a one-of-a-kind residential rehab facility for teenagers operating out of the San Francisco Bay area. The teen rehab center's team consists of experienced counselors, addiction specialists, case managers, medical and social service professionals, specifically trained to meet the needs of this unique population with more than 80 years of experience with effective treatment. For more information, visit http://3stoneswellness.com/ or call 1-866-904-3625.