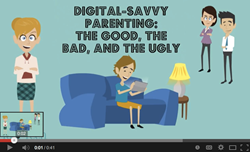 Our new webinar is being presented to help parents understand the digital landscape.
Beachwood, Ohio (PRWEB) September 23, 2014
Adolescence raises plenty of questions for parents, not least of which is: What's my role when it comes to how my adolescent is using technology? Hands off? Hands on? Or somewhere in between?
Your Teen Magazine, with Verizon, is pleased to present a four-part webinar series to help parents get the tools they need to parent in the age of the Internet. Our experts will answer your most fundamental questions about parenting at the intersection of adolescence and technology, while also offering practical strategies for keeping technology a positive in your adolescent's life.
Always eager learners, teens are utilizing digital media for many purposes and enjoying the freedoms that come with this radical technological shift.
For parents, it's a mixed blessings, as digital access enables teens to have more privacy and unmonitored freedoms than ever before.
Parents of teenagers can register for the free webinar: "Digital-Savvy Parenting: The Good, the Bad, and the Ugly." It's at 9 p.m. EST on September 30, 2014.
Register at http://bit.ly/YTTechWebinar
If you are unavailable at that time, register to automatically receive the link of the video.
The webinar provides parents with the opportunity to ask questions and hear answers on a myriad of topics related to teen digital media use.
Featuring noted speakers Jennifer Lehner - social media strategist and president of The Posner Lehner Group, and Dr. Lisa Damour – psychotherapist and director of Laurel School's Center for Research on Girls, the webinar is designed to empower parents with knowledge and tools to gain a deeper understanding of teens and their many uses of digital media and technology.
"Technology is advancing so fast and teens are savvy consumers of all things tech, particularly the tools that increase freedom from their parents. This activity is precisely what parents are trying to monitor," Your Teen Editor-in-Chief Susan Borison says. "Our new webinar is being presented to help parents understand the digital landscape and what they need to be aware of in terms of their kids and technology."
Register now and learn what's important to worry about and what you can do to impact your teen's online decisions.
Take a look at this video for more information about the webinar: http://bit.ly/YTtechvid
About Your Teen Magazine
Your Teen Magazine for Parents addresses the challenges inherent in raising teens and helps parents of teens to continue the journey toward the goal of successful parenting. In the magazine format, parents can post questions, offer personal tactics, and hear the different perspectives of professionals, other parents and teenagers on relevant topics. Your Teen hopes to ease the worry of parenting teens in today's modern world.
Your Teen is available at http://www.yourteenmag.com/subscribe and in select Barnes & Noble Bookstores.