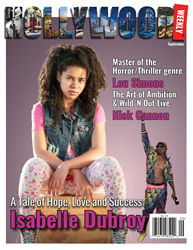 "Beauty, brains and balance comprise what I call the 'holy trinity' of Isabelle's characteristics"
LOS ANGELES (PRWEB) September 11, 2018
The young, incredibly talented Isabelle Dubroy, piano student protégé of pianist, composer and businesswoman extraordinaire Oksana Kolesnikova, will be launching the accompanying music video to her new song "Flawless" on YouTube. Set to debut on Sunday, September 16, the "Flawless" video conceptualizes Dubroy's resonating message of hope and love in a heartfelt effort to combat self-confidence issues, bullying and the unfortunate new "cutting" epidemic running rampant throughout teen and pre-teen demographic circles.
Being passionately devoted to helping kids stay out of serious trouble, the naturally gifted young lady addresses both teens/pre-teens and their parents alike through powerful works such as "Flawless."
"Beauty, brains and balance comprise what I call the 'holy trinity' of Isabelle's characteristics, and they each play a role as her music strives to entertain the different corners of the globe," states Dubroy's mentor and instructor Kolesnikova. "A great example of this is her new emotion-fueled single 'Flawless,' which is all about self-esteem and accepting one's flaws – perfectly applicable topics for the teen and pre-teen demographics Isabelle targets."
"Flawless" bursts with inspirational energy and an almost hypnotic harmony that truly earns Dubroy the "ahead of her time" moniker so many have already branded her with. Through her lyrics, she has mastered the art of communicating directly to certain age groups succumbing to such anti-social behaviors as "cutting" – one of the most insidious and disturbing new behaviors teens in particular are engaging in.
A form of self-punishment by mainly young people afflicted with ongoing feelings of guilt, confusion, anger or overwhelming pain, cutting is correlated with a history of sexual abuse, substance abuse, eating disorders and obsessive-compulsive behaviors, and affects one in every 200 adolescent girls between 13 and 19; though cutters are primarily teenage females, the affliction also affects males. Because those who self-injure have not learned to identify, express or release their emotions, they may adopt self-injury as a strategy for getting relief from intense unexpressed feelings.
An award-winning actress, singer, model and philanthropist, Isabelle Dubroy is well-known for her 2014 web series Microchip Jones, for which the Greenville, North Carolina native has won two Young Artist Award nominations, and is constantly cited for her passion for helping underprivileged children and their families through the sales of her published children's books and CDs. Since that time, the rising star has created her own original music which includes songs like "Coconut Mama," "Isabelle's Heart," "Get Up," "No Princess" and "Mula," all of which she crafted between the tender ages of six and 10.
Beyond such awe-inspiring accomplishments, Dubroy held the honor of being National American Miss Pre-Teen for 2016 to 2017 and the National American Miss Princess for 2011 to 2012. When she isn't belting out inspired music or gracing the covers of publications, this ambitious young lady puts her creative writing juices to the page, another talent that has produced such published masterpieces as Stuffy the Lucky Puppy, Poems of Love, Pretty Perfect Super Hero and Haley the Helping Hippo.
Information regarding all of Isabelle Dubroy's achievements and details about booking can be obtained by visiting http://www.IsabellesHeart.com.
Information about Oksana Kolesnikova and the Oksana Management Group, Inc. can be obtained via http://www.OksanaManagementGroup.com.