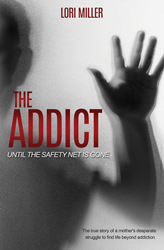 My book highlights the opioid issue on a personal level, regarding the effects on teenagers and their families
BETHEL PARK, Pa. (PRWEB) October 30, 2019
Lori Miller's book The Addict: Until the Safety Net is Gone (19.49, paperback, 9781545675441; $9.99, e-book, 9781545675458), is available for purchase.
The Addict: Until the Safety Net is Gone is for readers with children, regardless of their age, struggling with substance abuse or drug dependency. It's for readers looking for answers that will save them from sinking further into their drug issues, spending time in torturous worry as they wonder where they are, what they are doing, when they will be home. The Addict: Until the Safety Net is Gone presents author Lori Miller's story about how she dealt with a son as he struggled with drug dependency. The story starts with the beginning of his substance abuse at thirteen and continues through his teen years as his drug dependency grew into The Addict, an entity that rose within him and controlled his body as its own. Miller discusses her journey of providing counseling for him while she learned to accept his need for more intense treatment and the many things she learned along the way to his success.
"My son started with prescription Vicodin, then proceeded to heroin because it was cheaper. That is the normal progression for heroin users. My book highlights the opioid issue on a personal level, regarding the effects on teenagers and their families" said Miller.
Lori Miller studied the science of addiction, spent years working with different medical doctors, drug addiction specialists, and recovering drug addicts. She understands people with a drug dependency because she has experience in dealing with her son. Lori's son grew into a successful and healthy young adult. She has seen the success that different treatment approaches can bring. Lori uses this knowledge to coach parents with children who have drug dependency issues. She has received training on communicating with the drug dependent, survival skills for their families, and parenting drug-dependent individuals.
Xulon Press, a division of Salem Media Group, is the world's largest Christian self-publisher, with more than 12,000 titles published to date. The Addict: Until the Safety Net is Gone is available online through xulonpress.com/bookstore, amazon.com, and barnesandnoble.com.