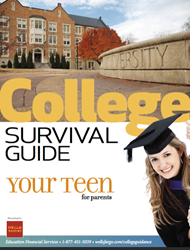 When everyone understands what to expect, the level of stress is diminished.
Beachwood, Ohio (PRWEB) August 29, 2014
Today's students, thanks to the Internet, are aware of college and university choices that were simply not known about or were unavailable 30 years ago. More international students are making their way to America for higher education thanks to the Internet as well, which can make acceptance for American citizens tougher.
Your Teen Magazine for Parents created the College Survival Guide for parents as they begin tackling the subject of college with their teenagers. It's available here: http://yourteenmag.com/wp-content/uploads/2014/08/College-Survival-Guide1.pdf.
"College is a process filled with anxiety. Our kids feel it from the day they enter 9th grade. They have heard too often that once you hit 9th grade, everything counts. That is an awful lot of pressure on a 14-year-old. Ironically, the adults feel the same way," Your Teen Editor-in-Chief Susan Borison says. "When everyone understands what to expect, the level of stress is diminished. Your Teen with Wells Fargo presents The Basics of the College Process—just enough to calm you down. I am in the college process for the fourth time, yet I found the information in this survival guide extremely valuable."
College entrance testing procedures have become an entire industry in themselves, requiring more study and preparation as well as providing more testing options for students. Lastly, the costs of a college education have rocketed upwards at a phenomenal rate, so that even state universities are far costlier than when today's parents attended university.
The college selection and application process can be highly stressful for teenagers, as it's normally the most important decision a young person has made up to this point in her or his life. Paying for that higher education will often prove to be a responsibility for young people and their parents for decades to come.
Chock-full of wisdom forged on the frontlines of college admission counseling for teens, Your Teen Magazine delivers in-depth information and perspective on trenchant issues every parent and college-bound high schooler will have to address one degree or another. Subjects included in the College Survival Guide include:

How Parents Should Approach the College Process
Paying for College: 5 Steps to Shrinking Costs
Get Ready: Admissions Testing Starts Sophomore Year
Finding the Right College
The Campus Visit
Nailing that College Essay
Evaluating College Offers
Terry McCue, Assistant Head of School and Director of College Counseling for Hathaway Brown School in Shaker Heights, Ohio – and a former admissions director – offers this perspective early in the guide: "Among college counselors, there is a famous saying: 'College is a match to be made, not a prize to be won.' This is not about a bumper sticker or whether your family and friends will recognize the name of the school. It's about finding a school that's a good match for your teenager. A place where they can thrive and reach their goals."
About Your Teen Magazine:
Your Teen Magazine for Parents addresses the challenges inherent in raising teens and helps parents of teens to continue the journey toward the goal of successful parenting. In the magazine format, parents can post questions, offer personal tactics, and hear the different perspectives of professionals, other parents and teenagers on relevant topics. Your Teen hopes to ease the worry of parenting teens in today's modern world.
Your Teen is available at http://www.yourteenmag.com/subscribe and in select Barnes & Noble Bookstores.