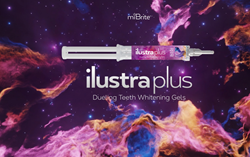 For the first time we have a single teeth whitening treatment that uses a dual-barrel syringe to combine the two most effective teeth whitening agents - hydrogen peroxide, and PAP together, says Dr. Martin Giniger, Ph.D., DMD, Chief Scientist at Smash Labs, LLC
BOCA RATON, Fla. (PRWEB) December 03, 2020
miBrite the teeth whitening brand that sparks confidence, announces the reformulation of its flagship home tooth whitening kit miBrite ilustra plus along with both miBrite luminite teeth whitening pens. The new formulations include never seen before dueling teeth whitening gel technology with a dual-barrel syringe that dispenses and combines two powerful teeth whitening ingredients: hydrogen peroxide and Phthalimidoperoxycaproic Acid - more commonly known as PAP.
miBrite ilustra plus doesn't stop at just combining the two effective whitening ingredients; their oral care R&D team formulated the gels to be near sensitivity-free with the natural enamel fortifying and remineralization ingredient hydroxyapatite.
Since they know hydrogen peroxide and PAP to be effective teeth whitening ingredients separately, miBrite reformulated its touch up options to offer customers a choice between the whitening agents. miBrite upgraded the luminite blue pen to a pH-neutral tooth whitening gel containing medical-grade hydrogen peroxide. Next, miBrite upgraded the luminite pink teeth whitening pen with the peroxide alternative, PAP.
Hydrogen peroxide is the professional choice as a teeth whitening agent for decades. The way hydrogen peroxide whitens teeth is by the hydrogen peroxide (H2O2) breaking down water (H2O) and releasing an oxygen free radical that changes the optical properties of tooth stain, changing it from having color to transparent. This reaction with hydrogen peroxide is commonly demonstrated with hair bleach products.
Phthalimidoperoxycaproic Acid, or PAP, is a new teeth whitening ingredient formulated as an effective alternative to hydrogen peroxide. While the ingredient is very effective for whitening teeth, it is also a challenging ingredient to integrate into products because of its dynamic nature. The miBrite research and development team has spent years unlocking PAP's full potential, eventually creating a very carefully stabilized active formulation.
"miBrite's reformulated ilustra plus dueling teeth whitening technology will undoubtedly disrupt the entire teeth whitening industry," says Dr. Martin Giniger, Ph.D., DMD, Chief Scientist at Smash Labs, "for the first time we have a single teeth whitening treatment that uses a dual-barrel syringe to combine the two most effective teeth whitening agents - hydrogen peroxide, and PAP together - along with remineralizing the teeth at the same time with hydroxyapatite."
Dr. Giniger continues, "Our testing has shown that not only does ilustra plus work twice as fast with twice the some of the best results I have seen. What's more, there has been almost no reported sensitivity during or after the whitening treatment. I have never seen a teeth whitening product work this well in all my years developing teeth whitening products."
To learn more about the new revolutionary miBrite ilustra plus and luminite teeth whitening products, please visit http://www.mibrite.com.
About Smash Labs, LLC and miBrite
Smash Labs, LLC is a multi-faceted oral care product innovation international firm based in Boca Raton, Florida, and Amsterdam, The Netherlands. Dr. Martin Giniger, Ph.D., DMD heads the company as Smash Lab's Chief Scientist and works together with Oral Care R&D formulator Matt Spaid. Smash Labs works closely with companies worldwide and helps them formulate the products of their dreams. For more information, visit http://www.smash-labs.com and http://www.mibrite.com
###