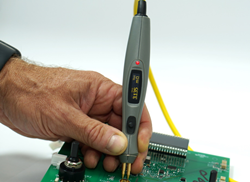 GENEVA, Ohio (PRWEB) September 29, 2020
TEGAM, Inc., "Why do I have to look at the meter to read it?" is a question we hear from our customers. It may sound absurd, but we took it seriously when we introduced our new 710A grounding and bond meter. Many applications take our customers into difficult places such as:

Laying on your back under an aircraft instrument panel while still having to read your meter. Now you can!
Inside a full rack of a server farm. Now you can! Without straining your neck.
Climbing up a wind turbine to repair after a lightning strike. Now you can! Keep your eyes where they belong when you are 100 meters up.
Climbing on the roof to check the grounds on your solar array. Now you can! Without removing the meter from your belt.
TEGAM's new BKDP-M2 Display Probe puts the metering information literally in your hand by putting a display into the probe body so that it is in your field of view where you are working rather than remotely on the instrument face. The highly visible OLED display is readable in dark areas and brightly lit ones. A hold button was also incorporated into the probe so that you could freeze a reading and refer to it later.
"This is truly a revolutionary advance in ergonomics. I have been working in the handheld meter market for over 30 years and have not seen anything more useful" says Kevin Kaufman, VP of Sales.
The BKDP-M2 also completes a true 4-wire measurement for accurate low Ohms measurements but also can be outfitted with a range of replaceable probe tips. The proper tip can be selected to match the application and can be replaced by the operator without tools.
The BKDP-M2 Display Probe complements the extraordinary accuracy of the 710A Bond Meter and can be added at the time of purchase or after the fact. The Display Probe does not need to be calibrated nor does it affect the accuracy of the readings.
For more information on the TEGAM Bond Meters or to download a datasheet, visit TEGAM.com.
About TEGAM
Headquartered just east of Cleveland, Ohio, TEGAM, Inc. designs, manufactures and calibrates instrumentation that impacts your daily life in surprising ways. Our goal is to make your measurement task easier, faster and more accurate. We continuously invest in R&D of products and calibration techniques that allow you to make your critical measurements with unparalleled certainty. Our electrical measuring capabilities include temperature, RF power, and micro-Ohms. In addition to the Geneva, Ohio Headquarters, TEGAM operates a sales office in Beijing, China providing regional support to our customers in Asia. A cohesive network of strong technical distributors extends our representation to over 40 other countries throughout the world. For more information visit http://www.tegam.com or contact Sales at Sales@tegam.com.