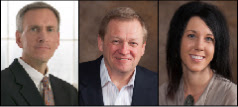 Sandy, UT (PRWEB) May 05, 2014
Telarus, Inc., distributor of commercial data, voice, and data center services, announced today that it has named David Bashford as its president, COO, and general counsel. The company also announced today that co-founders Adam Edwards and Patrick Oborn have been named Chief Executive Officer and Chief Innovation Officer, respectively. In addition, the company promoted Paula McKinnon to VP of Supplier Management and Mike Gottwalt to VP of Field Sales.
"Today marks an important moment in our company's history," commented Adam Edwards, CEO of Telarus. "We have worked hard for over a dozen years to build a company that exhibited a culture of leadership, innovation, and high ethics. Each new member of our leadership team has been battle tested and demonstrated a high level of competence and integrity. I congratulate them. I'm confident they'll help take our company to a whole new level in both the short and long term."
David Bashford joined Telarus as the COO in late 2013, bringing over twenty years of executive and legal experience. Paula McKinnon started with Telarus in 2010 and has climbed the ranks from partner support manager all the way to vice president in just four years. Mike Gottwalt started with Telarus as an agent in 2003 and became the top partner in 2006 before joining Telarus as the northwest channel manager in 2008. Since then Mike has demonstrated his management and mentoring skill with partners and suppliers alike. As the VP of Field Sales he will be responsible for coordinating and coaching all of Telarus' field assets as his team meets regularly with agent and supplier partners in the markets in which they live.
"Congratulations go out to Mike and Paula for all of their hard work and dedication to Telarus all of these years," added David Bashford, president of Telarus. "Their skill and work ethic make them deserving of this promotion and our leadership team will benefit from their contribution. I look forward to working with them as we focus on providing a superior experience for our partners, through both back office support and innovative software tools that help them make more sales with us than they can on their own or with another distributor."
As part of his new role, Adam Edwards will retain oversight of company culture and values two things that must not change as Telarus grows. Patrick Oborn, for his part, will be in charge of answering the question: 'What's next?" Pioneering new roles, envisioning new software, and figuring out new ways to add value. He is currently executing his role developing the Sales Engineering team that will be available for partners to use on large, complex sales opportunities. His past pioneering efforts include lead developer of GeoQuote, Director of IT, and VP of Marketing.
For more information about the new Telarus management team, please visit http://www.telarus.com/management.html
About Telarus
Telarus, Inc., a value added distributor that holds contracts with the world's leading commercial telecommunication carriers, makes it easier and more profitable for solution providers, VARs, and MSPs to sell and source voice and data WAN solutions. Our patented GeoQuote platform combines real-time carrier pricing with advanced research features and branded proposals. Telarus' experienced Sales staff is strategically focused on enterprise WAN and high-capacity bandwidth solutions, making it easier to find the best offer, every time. For its part, Telarus has been named the top Master Agent by the members of the Telecom Association in each of the past three years, the first and only company in the carrier channel to accomplish this feat. Whether you are a top producer or a voice-and-data expert just starting out on your own, there is a place for you in the Telarus community. For more information on the Telarus partner program, please visit http://www.telarus.com or call the new partner hotline at 877-346-3232.