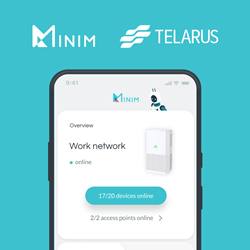 As the leading technology services distributor in the US, Telarus sees a ballooning need for next-gen security solutions... Minim offers a unique and visionary approach to solving the WFH security problem. Reach out to us to learn more!
MANCHESTER, N.H. (PRWEB) July 16, 2020
Minim, the AI-driven managed Wi-Fi and security platform, today announces it has signed an exclusive Master Agent Agreement with Telarus LLC, the largest privately held technology services distributor in the United States. Together, the companies will solve a massive problem: As 74% of CFOs intend to shift employees to remote work post-Coronavirus (Gartner), companies are exposed to data breaches via home router and IoT attacks— even while employing VPN and endpoint security. Now, Telarus partners will introduce Minim, an affordable remote networking solution that improves WiFi performance, safeguards business operations, and delivers insights to IT personnel.
"As the leading technology services distributor in the US, Telarus sees a ballooning need for next-gen security solutions," said Dominique Singer, VP Business Development, Cybersecurity at Telarus. "It's only a matter of time until a business data breach from an employee home makes headlines— a $3.92 million dollar average cost, plus lasting reputational damage. Minim offers a unique and visionary approach to solving the WFH security problem. Reach out to us to learn more!"
Founded in response to the Mirai botnet attack of 2016 by the former CEO founder of Dyn, Minim is a Bring Your Own Network™ SaaS solution that transforms at-home work environments into secure, managed office networks in seconds. The solution is comprised of three products, available for one simple monthly fee per remote worker:

Minim-powered Access Points - With leading router brands, Minim provides meshed network devices with Zero Touch Provisioning to create the Minim network. The Minim-powered Motorola system boasts AC2200 Tri-Band WiFi; 6,000 ft of coverage; and auto-managed firmware.
Minim® Edge Extend - A web application that grants IT personnel and MSPs visibility into their Minim network with insights including: employee network usage, health scores, mesh system settings management, and vulnerability analysis from an AI-driven IoT firewall.
Minim® Remote Assistant - A mobile app for employees to self-diagnose WiFi performance issues, such as low signal strength or speeds, as well as set home policies for security filters, ad blocking, safe search, listening device pausing, and more.
"The thing about enterprise security is that traditional solutions are fit for the office building, and remote employees are given a VPN to tunnel partial traffic to the corporate firewall," said Nicole Hayward, cofounder and CMO/CPO at Minim. "But in this new era, are you going to funnel your child's Disney Circle streaming back to the corporate firewall? If not, then your remote network is unprotected. If so, that's a privacy, performance, and budget problem. We need a new solution to tame smart speakers from listening to work conversations, protect consumer-grade routers from hacks, block malicious attacks on consumer IoT, and make it easy for both the employee and IT personnel to manage. That's Minim. And as a former board member of the Alliance of Channel Women, I couldn't be more excited to offer Minim with Telarus."
With this announcement, the companies are kicking off a series of partner education and demonstrations, including a podcast hosted by Dominique Singer and Tyler Craig, VP Channel Sales at Minim. The podcast will discuss the whopping $19,000 in annual savings per remote employee, the challenges of securing the smart home network, and BYON defense in depth— how Minim complements existing Firewall, VPN, Endpoint Security, and SD-WAN solutions in the Telarus portfolio. To sign up to receive more information and the podcast recording coming soon in August, visit hello.minim.co/telarus.
About Minim
Minim® is a cloud WiFi management platform that enables and secures a better-connected home. Minim's Software as a Service (SaaS) helps businesses create co-managed WiFi networks to monitor device behavior, optimize the broadband connection, eliminate connectivity issues, and block cybersecurity threats. The company's self-learning platform employs proprietary fingerprinting and behavioral models to detect threats and performance issues without compromising privacy. Minim customers benefit from intuitive applications and hardware choice to improve the WiFi experience, leading to happy and productive homes and offices where things just work. The company is now partnering with ISPs, managed service providers, distributed businesses, and device manufacturers who want to help make home connectivity as safe and reliable as drinking water. To learn more, visit https://www.minim.co.
About Telarus
Telarus is a technology services master agent who holds contracts with over 80 data, voice, and cloud providers. To help our partners See What Others Can't, we have created a set of tools to help them win more business. We are proud to offer our partners performance monitoring of all circuits ordered, patented pricing tools aid in carrier selection/optimization and cloud engineers to aid partners in complex network design. Our project management team ensures the services ordered are turned up properly. Account management to allow partners to focus on selling while our team manages the renewal process and upsells on their behalf. Telarus was voted the best master agent by the members of the Telecom Association for over five years in a row and is a top-three channel partner for nearly all providers it represents. For more information on the Telarus partner program, please visit http://www.telarus.com/partners or call 877-346-3232.