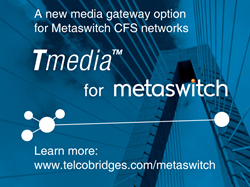 As operators upgrade and modernize their networks, reliable media gateways play an important role in interconnecting their networks with other operators and subscribers.
MONTREAL (PRWEB) November 03, 2021
TelcoBridges, a leading designer and manufacturer of carrier-grade VoIP gateways, today announced a comprehensive agreement with Metaswitch to certify versions of TelcoBridges Tmedia gateways for full interoperability with the widely-deployed Metaswitch Call Feature Server (CFS). As part of the agreement, TelcoBridges will offer "Tmedia for Metaswitch Networks" as a software option/upgrade for existing and new Tmedia products, adding integration with Metaswitch's MetaView Service Assurance Server for rapid call tracing and fault diagnosis. The new options will be available during the first half of 2022 once joint development and testing of the overall solution is complete.
"As operators upgrade and modernize their networks, reliable media gateways play an important role in interconnecting their networks with other operators and subscribers," said Alan Percy, CMO at TelcoBridges. "Interoperability certification with Metaswitch is an important milestone for TelcoBridges, allowing us to supply gateways that work seamlessly with in-network Metaswitch call control."
TelcoBridges "Tmedia for Metaswitch Networks" represents a scalable offering for low and high-capacity solutions, ideally suited for existing and new Metaswitch CFS networks requiring connectivity to SS7 networks, TDM interconnect, subscriber DS1, DS3, and STM1 interfaces.
"The telecommunications industry is shifting investments to software-based solutions and away from specialized hardware," said Joe Weeden, VP of Voice Core infrastructure at Metaswitch. "Despite this industry shift, there is still a need for TDM in many networks. We are delighted to be certifying TelcoBridges to provide another media gateway option with proven interoperation with the Metaswitch Call Feature Server product family and integrated with the always-on diagnostic capability provided by our MetaView Service Assurance Server."
TelcoBridges Tmedia™ family of VoIP media gateways are a highly reliable solution for telephony service providers, interconnecting legacy TDM and modern VoIP networks. Divided into three product series (TMG800™, TMG3200™ and TMG7800™), Tmedia provides a VoIP gateway solution to meet the needs of Carriers, CLECs, ILECs, ICX, Operators, MVNOs, MVNEs, and providers worldwide. Backed by a global 24x7 support team and a "no-EOL" policy, TelcoBridges Tmedia has demonstrated exceptional reliability and longevity.
More details on the Metaswitch CFS and MetaView Service Assurance Server are available at http://www.metaswitch.com. Metaswitch is a Microsoft Company.
For additional details on Tmedia for Metaswitch Networks visit: https://telcobridges.com/metaswitch/
Have questions? Join us for a live Q/A briefing "Media Gateway Interoperability Agreement with Metaswitch - FAQ Session" on Tuesday, November 9th at 11:00 AM ET. Register here: https://us02web.zoom.us/webinar/register/7816352590090/WN_YlP8kA9LQ2CcEVbEMGpcog.
About TelcoBridges:
TelcoBridges is a leader in the design and development of carrier-grade and high-density SBCs and VoIP gateways, facilitating connectivity for cloud communications and traditional telco applications. With expertise in SIP, ISDN, SS7 and many other signaling protocols, TelcoBridges products and services solve difficult telco connectivity challenges. Based in Montreal Canada and with offices in Buffalo, NY (USA), Italy, Turkey, Brazil and Hong Kong, TelcoBridges has deployed VoIP solutions in more than 100 countries worldwide. TelcoBridges' brands include: FreeSBC™, ProSBC™, Tmedia™ (VoIP media gateways), Tsig™ (signaling gateways), and Tmonitor™ (real-time network monitoring equipment). For more information, visit http://www.telcobridges.com.
Contact Information:
Alan Percy
Chief Marketing Officer
+1 450-300-2083
apercy@telcobridges.com