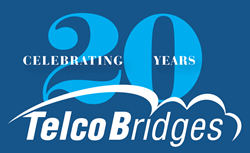 TelcoBridges' robocall mitigation solution enables service providers to address non-IP gaps across a call path, authenticate calls and deliver the benefits of STIR/SHAKEN across IP and non-IP networks.
MONTREAL (PRWEB) December 21, 2022
TelcoBridges today announced that it has submitted a filing to the U.S. Federal Communications Commission, via a formal response to the FCC's Notice of Inquiry for the implementation of caller-ID authentication on non-IP networks.
The STIR/SHAKEN framework, which is a set of regulations designed to stop robocalls and other problematic phone communications, has been embraced by large IP-based carriers since June of this year. But today, many non-IP-based legacy networks still carry voice traffic around the globe. Long-term interconnection contracts with service providers that utilize non-IP networks remain in place, and heavily rural or remote locations require a non-IP interconnection to carry some portion of a voice call. As a result, service providers of all types face difficulties delivering the benefits of STIR/SHAKEN, because their calls inevitably cross a non-IP barrier somewhere along the call path.
TelcoBridges' media gateways enable communication between IP and non-IP networks. Via partnership with TransNexus, TelcoBridges provides a solution that combines TransNexus' software with TelcoBridges hardware and SBCs to deliver the benefits of STIR/SHAKEN across IP and non-IP networks. This solution supports both the ATIS out-of-band or in-band options, giving non-IP network providers flexibility to choose either option – or some combination of both – as they see fit.
By implementing TelcoBridges' solution, service providers can address non-IP gaps across a call path, authenticate calls, and facilitate the transmission of SHAKEN PASSPORT information over TDM ISUP circuits. This solution has been successfully demonstrated, proving the technical viability of the in-band SHAKEN solution.
"Our turnkey robocall mitigation solution for IP and non-IP networks is available today, at a reasonable cost and it can be deployed in a matter of hours," said TelcoBridges' CMO Alan Percy. "The input we've provided to the FCC is designed to let the industry know that there's no need to wait on future resolutions to IP interconnection issues to close the STIR/SHAKEN gap across non-IP networks. We can prevent illegal robocalls today in a quick and affordable manner, and we encourage service providers to contact us to learn more."

About TelcoBridges:
TelcoBridges is a leader in the design and development of carrier-grade and high-density SBCs and VoIP gateways, facilitating connectivity for cloud communications and traditional telco applications. With expertise in SIP, ISDN, SS7 and many other signaling protocols, TelcoBridges products and services solve difficult telco connectivity challenges. Based in Montreal Canada and with offices in the United States, Turkey, Vietnam and Hong Kong, TelcoBridges has deployed VoIP solutions in more than 100 countries worldwide. TelcoBridges' brands include: FreeSBC™, ProSBC™, Tmedia™ (VoIP media gateways), Tsig™ (signaling gateways), and Tmonitor™ (real-time network monitoring equipment). For more information, visit prosbc.com or http://www.telcobridges.com.
Contact: Alan Percy
Chief Marketing Officer
+1 450-300-2085
apercy@telcobridges.com