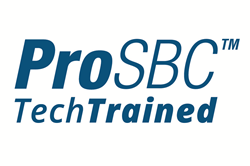 TelcoBridges has accelerated the delivery of its online training academy to make it convenient for customers to access the information they need.
MONTREAL (PRWEB) March 18, 2020
TelcoBridges today announced the immediate availability of its new on-line training series for the popular ProSBC session border controller software. These online courses present material featured from TelcoBridges' recent sold-out training events in Montreal and Fort Lauderdale and deliver the content to attendees in an online format that can be safely and conveniently consumed at home, or in a remote setting of the attendee's choice.
Course material helps TelcoBridges' partners, system integrators and end-customers master SBC concepts and become experts on installing and configuring ProSBC. The courses also feature tips that help attendees leverage ProSBC's enhanced capabilities to more effectively monitor and troubleshoot their networks.
Online training options range from free to paid, and from self-paced to real-time trainer, including:
1. Free, self-paced pre-recorded video training (12 modules available on YouTube)
2. Paid 2-day online training with a live trainer (for $100/person)
Upon completion of the training, trainees will have an opportunity to take a brief online test to achieve their ProSBCTM TechTrainedTM certification, yielding a certificate and other benefits.
"The positive feedback we've received from our Montreal and Fort Lauderdale training courses has been resounding, and so many of our customers were looking forward to regional in-person training – so we've accelerated the delivery of our online training academy to make it available immediately to customers and partners around the globe," said Alan Percy, CMO at TelcoBridges. "We wish everyone health and safety during these unusual times, and we remain committed to doing everything we can to make it convenient for our customers to access the information and the training they need."
The self-paced pre-recorded free video training program is a 12-module library of training videos, recorded in Montreal during the fall of 2019. Available immediately, the videos can be found on the TelcoBridges' YouTube Channel at http://www.youtube.com/telcobridges.
Registration for the paid live online training can be found at: https://store.telcobridges.com/.
TelcoBridges' global support team is functioning at full scale. TelcoBridges' Global Director of Technical Support Luc Morissette adds, "As we have a globally distributed support team, we want our customers to know that we will be continuing to support our products and services throughout the COVID-19 pandemic."
Customers can continue to get regular support from TelcoBridges in the usual ways:

About TelcoBridges FreeSBC and ProSBC:
TelcoBridges' FreeSBC and ProSBC are virtual session border controllers, protecting networks from attack while offering extensive SIP interoperability and routing features with outstanding session handling performance. Both products include a B2BUA, DoS & DDoS protection and advanced call routing features. FreeSBC can be used by end-users at no cost. ProSBC adds carrier-grade features including high-availability, encryption, and media manipulation capabilities with support and maintenance all for a $1/session/year subscription. Both FreeSBC and ProSBC operate on any combination of VMware™, KVM/OpenStack™, Amazon/AWS™, Microsoft Azure™ and bare metal servers as well as a VNF on dedicated network devices. To date, more than 10 million sessions have been downloaded by thousands of customers in more than 100 countries around the globe.
About TelcoBridges:
TelcoBridges is a leader in the design and manufacture of carrier grade, high performance, and high-density SBCs and VoIP gateways. Based in Montreal with offices in Buffalo (USA), Vancouver (CAN), Poland, Turkey and Hong Kong, TelcoBridges has deployed VoIP solutions in more than 100 countries worldwide. TelcoBridges' brands include: FreeSBC™, ProSBC™, Tmedia™ (VoIP media gateways), Tsig™ (signaling gateways), Tdev™ (development platforms) and Tmonitor™ (real-time network monitoring equipment). For more information, visit prosbc.com, http://freesbc.com, or http://www.telcobridges.com.
Contact Information:
Alan Percy
Chief Marketing Officer
Mobile: +1 716-830-5966
apercy@telcobridges.com