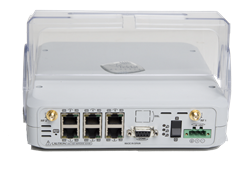 Teldat, with 30 years of experience in corporate communications technologies, has been developing secure, reliable, and professional solutions with leading electricity companies since the initial deployment of Smart Grids in Europe
NEW ORLEANS, Louisiana (PRWEB) February 15, 2016
Teldat SA will presenting a broad portfolio of innovative networking solutions that have been custom designed for the needs of Smart Grid and Service Fleet operators at TechAdvanatge 2016 in New Orleans, Louisiana. From February 15th to the 17th, 2016 leading network specialists from Madrid and the USA will present information on the latest trends and pioneering technologies for the power industy at Booth 854.
Key topics at the trade fair will include improving the efficiency and cyber security of communications systems and reducing operational costs. Highly reliable products for networking energy generation, distribution, and metering applications, as well as enabling service fleets and technicians to be more productive will share the spotlight.
Teldat, with 30 years of experience in corporate communications technologies, has been developing secure, reliable, and professional solutions with leading electricity companies since the initial deployment of Smart Grids in Europe. This has made Teldat a capable and reliable technology partner in this complex environment.
Reducing Operations Costs
Applying key technologies like support for legacy and current SCADA protocols, protecting information over lower cost public networks, cost reduction techniques for implementing redundancy and failover technologies, and low equipment service rates and zero touch deployment result in lowering overall network lifecycle costs.
Improving Cyber Security
Teldat products support all of the latest international standards for cyber security including strong hardware based encryption, VPN and DMVPN, firewall and access controls, Radius, TACACS+, as well as cloud based installation and monitoring tools.
Increasing System Reliability
Teldat's hardware and software design have created exceptionally low device failure rates, unique tools for monitoring network health and creating failover and recovery techniques across multiple network types and providers.
Introducing SD-WAN for Smart Grids and Transportation
New technologies apply intelligence built into Teldat products for cloud based network management, smarter and more secure utilization of both public and private network providers, as well as dynamic management and awareness of the traffic flowing on your networks.
Short Potrait of Teldat SA
Teldat Group is a leading technology holding that designs, manufactures and distributes advanced Internetworking platforms for corporate and enterprise environments, providing new and cutting-edge communication solutions without ever losing sight of its customers' real requirements. Teldat's solutions' development is based on proprietary technology, which is in the Group´s DNA. This allows Teldat to be a leading provider in Enterprise Communications equipment and Services markets.
From a geographical viewpoint, Teldat Group has a presence in all continents, with offices in USA, Europe and LATAM.