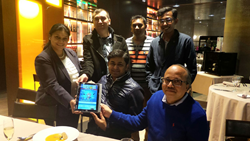 We are extremely excited as we are presenting one of its kind high quality editorial content. The report is divided amongst the B2B audience & the Consumers across the globe, said Rachana Chowdhary, Concept & Publisher of the Disruptive Telecoms 2020
Barcelona, Spain (PRWEB UK) 22 February 2016
Disruptive Telecoms – World Report 2020 is an effort to deliver critical insights into the world of telecoms – insights that can help telecom professionals towards making business decisions for incorporating the best for their network infrastructure.
While releasing the high profile report, Zia Askari, Editor – TelecomDrive.com said, "Future-proof technologies such as NFV, SDN, IoT and 5G will play a central role in pushing profitability and scripting success for Telco's in the coming years. As part of this special initiative, we at TelecomDrive.com have researched the most relevant topics that are reshaping the business strategies for operators across various geographies of the world."
Service Provider is dead; long live the 'Experience Provider'
As we move closer to 2020, there's prominence for the next generation CSPs, pure focus on the right customer experience. The era of service provider driven telecom ecosystem is a thing of the past.
Observing, the advanced convergence of the telecoms industry, Rachana Chowdhary, Founder of MediaValueWorks, Concept & Publisher of the Disruptive Telecoms - World Report 2020 said, "We are extremely excited as we are presenting one of its kind high quality editorial content. The report is divided amongst the B2B audience & the Consumers across the globe. We are definitive of the reach and the impact of our eReport."

Disruptive Telecoms 2020 aims to scale up the understanding for the B2B Professionals. (http://fliphtml5.com/nllk/ahkv)
Disruptive Gadgets 2020 carried in-depth product reviews and gadgets for the next generation.
Overwhelmed by the response, MediaValueWorks is currently in the process of formation of a consortium of the experienced telecom professionals, organizations, associations, analysts and media, who could voice the most interesting perspectives for an overall growth of the industry for 2020.
About MediaValueWorks
Media Value Works is a dynamic Global Communications Company, one of the industry firsts to use the cloud based PR platform to help Indian Companies communicate with the Global Media. Our outreach programs helps connect with target media spread across 150 countries. Our network of interpreters and translators enable localizing content that suits high priority markets. For more information, visit http://www.mediavalueworks.com
About TelecomDrive.com
Telecoms communications innovations
TelecomDrive.com is a unique content focused platform for the telecoms and communications stakeholders. TelecomDrive.com is reaching out to key stakeholders in India, SAARC, Europe, USA, Canada, Latin America, the Asia Pacific and the Middle East and Africa regions, covering telecom operators, service providers, ISPs, government bodies, regulatory boards, MSOs, VAS players, educational institutes and the related vendor ecosystem.TelecomDrive.com is an initiative from New Delhi, India based ERATO Solutions.