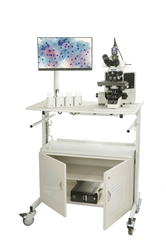 We have quantifiable evidence that telecytology can shorten procedure time and is a more efficient model for delivery of on-site interpretations.
MELVILLE, N.Y. (PRWEB) February 25, 2020
Remote Medical Technologies (RMT) will be demonstrating their rmtConnect™ for Telecytology Mobile Cart at the United States and Canadian Academy of Pathology (USCAP) 109th Annual Meeting in Los Angeles, California from February 29th to March 5th at the Los Angeles Convention Center. RMT solutions contain the features and benefits of a high-performance HD telepathology solution that allows users to securely share cytology images directly from any microscope in dynamic, live, real-time (with absolutely no scanning required) to many remote cytopathologists. RMT provides telepathology technology with a purpose-built height adjustable mobile cart, and industrial-strength wireless connectivity, for rapid on-site evaluations (ROSE).
Medical Centers that have been utilizing telecytology for Rapid On-Site Evaluations (ROSE) have proven that it is more accurate compared to traditional methods. RMT Founder & CEO, Don Marchon, explains, "We have quantifiable evidence that telecytology can shorten procedure time and is a more efficient model for delivery of on-site interpretations." However, understanding which is the right telepathology solution for your specific workflow and needs can be a complicated task if you don't know the right questions to ask. Without the proper model and methodology, setting up a telepathology system and implementation plan that is suitable for a cytology lab can be an intimidating task. There are multiple types of technology to choose from; therefore, it is important to select a solution that meets all pertinent criteria. Making sure that the solutions chosen are properly deployed, supported, and compliant with regulations is important. RMT diligently consults with each medical facility to develop a validated System Implementation and Support Plan (SISP) that ensures all measures are met, and personnel involved are aware of tasks at hand for a smooth and seamless transition into a new enhanced workflow.
At the upcoming USCAP 2020 Annual Meeting in Los Angeles, two well-known cytopathologists in the field who have made their mark as the thought leaders in cytology, are hosting a session regarding the successful implementation, practical issues, and challenging cases. These presenters have fully evaluated every solution on the market. They continue to implement telecytology for ROSE on a daily basis at their respective institutions in creative and effective ways. Registration is required in advance. Short Course 49, titled "Telecytology for Rapid On-Site Evaluation: From Implementation to Clinical Challenges" is being held Wednesday March 4th from 1:30- 5:30 PM in LACC 407 at the Los Angeles Convention Center. Visit USCAP online to register, in which 3 CME credits are offered to those who attend.
Visit RMT at booth #818 to get a hands-on demonstration of rmtConnect™ for Telecytology and learn more about the intuitive customized features that RMT has to offer.
About Remote Medical Technologies:
Remote Medical Technologies (RMT) is the creator of innovative patented technology for the delivery of secure Internet-based premium telemedicine services. RMT provides a best-in-class web-based video, voice, collaboration and administration platform. With simply the use of a browser the solution is easy to deploy, operate and manage. This customizable and extendable multimedia services platform is a modular, nonfragmented approach to extending a healthcare organization's communications infrastructure. Be it across the street or around the globe, RMT drives telemedicine concepts and provides solutions that save lives.
RMT Mission Statement: With everything that we do, RMT challenges the standard on how quickly medical facilities provide more and better patient outcomes. We believe there is a better way to reliably improve and significantly benefit patients, doctors and the profitability model of medical organizations.