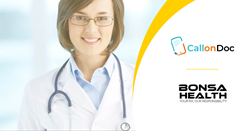 Free consultation with the Free same day prescription delivery.
DALLAS (PRWEB) March 18, 2020
CallonDoc.com, a premier resource for online telemedicine services, has announced that it will be suspending its basic $39.99 primary care consultation fee as of Friday for any home-quarantined patients seeking telemedicine services including prescription refills for a medical need unrelated to the coronavirus.Patients can waive this fee by using the promo code "GERMFREE".
The move coincides with expanding city, state, and federal government efforts to prevent the spread of the disease by encouraging those with suspected or confirmed cases to remain in self-quarantine until they have safely recovered and passed the point of risking transmission to others.
"At CallonDoc, we understand the mounting fear which is leaving so many people stranded in their homes, but we also know standard medical prescriptions for something minor or something more serious, apart from COVID-19, still need to be filled," said TJ Oshun, COO. "For that reason, we believe it was imperative for us to step forward to offer a more convenient, cost-effective diagnosis and delivery solution to anyone currently restricted by quarantine."
Perhaps even more importantly, at this pivotal moment in time when filling a routine prescription in the U.S. can no longer be considered "routine," Oshun explained that online doctor visits may well be one of the key tools that will help turn the tide.
"CallonDoc.com serves the everyday medical needs of patients with conditions ranging from simple cold symptoms and skin irritations to more complex diabetes and hypertension concerns, among dozens of other general health conditions including both men's and women's health,mental health and dermatology treatments. Even better, thanks to our partnership with Bonsa Health—an industry-leading, prescription fulfillment partner—clients can take advantage of free home delivery of needed prescriptions in one seamless transaction."
In that regard, both organizations are working diligently in partnership to "close the loop" in healthcare around the patient, physician and pharmacy. That advantage, according to John Asfour, COO at Bonsa Health, is likely to be a critical factor in mitigating the risk of unnecessary exposure until the threat is eliminated.
"Our team sees the importance of helping patients adhere to their therapies, but we also want to encourage preventative measures as well," Asfour said. "Now, in light of the rapidly intensifying COVID-19 pandemic, saving trips to both the doctor and the pharmacy not only makes all the sense in the world in terms of time and money, but even more so as it relates to saving lives in the larger community."
After insurance co-pays or other out-of-pocket costs are applied, CallonDoc.com patients receive the option of selecting a preferred pharmacy for pick-up or having Bonsa facilitate free home delivery of prescriptions to their front door.
While there is no current vaccine or treatment for coronavirus, Oshun suggested that even those at low-risk of developing serious complications should take a strong interest in doing their part to help others.
He even had a special offer in mind.
"Anyone unaffected by the virus who wants to support our cause and stand with us can do so by using CallonDoc.com for their next doctor visit or prescription refill," Oshun said. "All proceeds from new customers not under quarantine from coronavirus will go to expand our capacity to treat individuals in need."
A good deal—that gets better and better—is another way to put it.
For details, visit CallonDoc's coronavirus page at http://www.CallonDoc.com/coronavirus.
Call on 214-305-2717 or Email us at PROVIDER@CALLONDOC.COM
For Partnership inquiries call us at 817-993-9880 or Email us at stargosz@callondoc.com
To learn more about Bonsa Health, visit http://www.bonsahealth.com
Call/Text on 813-461-7012 or Email us at info@bonsahealth.com
About CallonDoc:CallonDoc is a web-based healthcare platform created by licensed primary care practitioners currently practicing medicine in the U.S. All patient visits and corresponding personal information entries are completely confidential, secured by the latest data encryption technologies, enabling users to engage in online medical consultations for prescription medications related to everything from relatively minor issues like ear infections and allergies to more chronic conditions such as diabetes, asthma, and hypertension. To learn more, visit http://www.callondoc.com.
About Bonsa Health: Bonsa Health was designed to put patients at the center of the healthcare circle, giving them the ability to make better, more affordable prescription refill decisions. Built on a brand-new, technologically advanced "hub-style" framework, Bonsa operates at the intersection among medication manufacturers, prescribing physicians, and independent pharmacists to ensure that customers receive the medications they need at the most competitive prices available. Many Bonsa prescriptions qualify for free delivery via ScriptDrop within 3-hours of order placement. Learn more at http://www.bonsahealth.com.