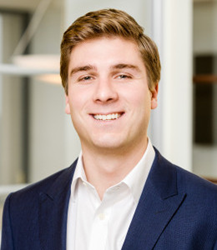 "I feel a definite sense of accomplishment. This was a lifelong goal,"
DETROIT (PRWEB) November 06, 2018
Telemus is pleased to announce that financial life advisor Chris MacKenzie has been admitted to the Michigan Bar after earning his Juris Doctor degree at Loyola University Chicago School of Law and passing the Michigan Bar exam. A swearing-in ceremony took place recently in front of the Hon. Shalina D. Kumar at the State of Michigan Circuit Court for Oakland County. MacKenzie, 28, received his undergraduate degree from the University of Michigan.
"I feel a definite sense of accomplishment. This was a lifelong goal," MacKenzie says. "I use my legal background to facilitate business entity creation, estate plan review and tax planning with outside attorneys and accountants."
MacKenzie joined the Telemus team in 2016. He helps individuals and families make smart decisions with their money through investment strategy, financial guidance and holistic planning. He also assists business owners with evaluating their qualified retirement options including 401(k), profit sharing and cash balance plans.
"We have a talented team with diverse backgrounds," said Gary Ran, Telemus chairman and CEO. "Chris' legal training and admission to the Michigan Bar provides an added value for our clients. We are proud of him for achieving this milestone."
Being admitted to the Bar is also meaningful for MacKenzie on a personal note. His late grandfather Arthur Healey attended The George Washington University Law School but never completed his degree. He worked in the Office of the General Counsel at Ford Motor Co. and passed away in 2013, during MacKenzie's first semester of law school.
"It was important to my grandfather," MacKenzie says. "[Being admitted to the Bar] is always something I wanted to finish for him and for myself."
About Telemus
Founded in 2005, Telemus is an independent, fee-based firm that offers comprehensive financial advisory, investment management and asset management solutions for high net worth and ultra high net worth individuals and institutional investors. The firm, with offices in Southfield, Ann Arbor, Chicago and Los Angeles, manages approximately $2.7 billion in assets. For more information, visit http://www.telemus.com.