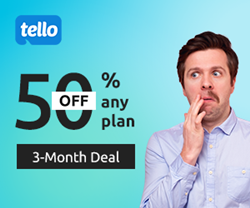 ATLANTA (PRWEB) February 15, 2021
For all people out there overpaying on their mobile plans, whether talkers, texters, or always online, Tello Mobile launches a new promo designed to meet their saving needs. Starting February 15 until February 28, all new customers who join Tello as well as new lines added to a family plan are welcomed with an unbeatable offer that makes the plans even more crazy affordable: 50% OFF any plan + a FREE Tello GSM SIM.
Let's talk savings
Translating the offer into figures, this means that customers who join Tello in February will pay for the upcoming three months:

$4/mo for the Unlimited talk & text, and $8 going forward
$5/mo for the Unlimited talk & text + 1 GB, and $10 going forward
$7/mo for the Unlimited talk & text + 2 GB, and $14 going forward
$9.5/mo for the Unlimited talk & text + 4 GB, and $19 going forward
$12/mo for the Unlimited talk & text + 6 GB, and $24 going forward
$14.5/mo for the Unlimited talk & text + 8 GB, and $29 going forward
$19.5/mo for the Unlimited everything, and $39 going forward
Starting January, Tello is enrolling customers into their new and faster GSM network. In order to join Tello & benefit from the 50% off deal, people need an unlocked GSM device compatible with Tello and they will get a free SIM to start the process. The 50% discount will be applied directly on the checkout page after customers add a phone and the SIM to their favourite phone plan combination.
Cascade of extra benefits for new customers
This 3-month offer is designed for all those customers paying extra for calls, texts and data they're not using, or regularly going over their allowance and getting hit with expensive bills.
The tiny prices are what customers pay for 3 months in a row. The key is to choose a phone plan of their liking – with any combination of data and/or minutes – and keep it for the next 3 months in order to keep the discount.
Tello Mobile welcomes them with flexibility and easy porting process, being the only wireless carrier rated as 'Excellent', as a result of more than 7k unbiased reviews from its customers on Trustpilot, a famous review website getting roughly 500,000 genuine testimonials about thousands of businesses each month. Joining Tello comes with:
Complete freedom to choose their own plan. They can build their ideal phone plan according to their needs, by adding data, minutes, texts as they like

Upgrade or downgrade at any time, with no extra fees
Free hotspot
Absolutely no fees
Family plans: multiple lines management under one account, no additional fees per line
An awesome referral program
The "no fees whatsoever" policy, outstanding 24/7 customer service & free calls to Canada, Mexico & China included in any plan make Tello stand out from other MVNOs.
About Tello
Tello, a mobile carrier launched in 2016 caters to a variety of needs, whether that's a lot of data or a simple plan with a smidgen of MB. The "no fees whatsoever" policy, the flexible plans and the outstanding 24/7 customer support made Tello the only wireless carrier on the US MVNO market rated as 'Excellent', as a result of over 7,000 unbiased customer reviews on Trustpilot. Tello.com is a KeepCalling brand, a global telecommunications company registered in 2002 in the USA. KeepCalling was listed by Inc 5000 as one of the fastest growing companies in the USA for 5 consecutive years.