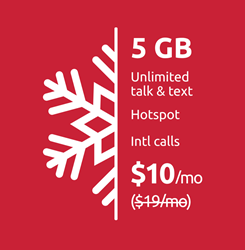 ATLANTA (PRWEB) December 05, 2022
'Tis the season! The season to start counting the blessings and also start checking the wallets or bank accounts, see if they're breathing, 'cause they're really under a lot of pressure these days. For all those who need to resuscitate their budgets, Tello Mobile launches a new promo: 12 days of savings.
Let is Sale, between December 5 - 16
Since not all people are Christmas songs fans, but all of them love a great deal, "let is sale" is this winter's hit. New customers who join Tello or existing customers who add a new line to their account are welcomed with a chubby offer: 5GB plan for just $10, instead of $19/ month, the standard price. This rate is valid for the first month of use, then the customers will pay the standard price per month.
All I want for Christmas is… this deal!
Tello Mobile is spreading the holiday cheer between December 5 - December 16, just when people need more room for more cheerful presents. The offer is for both early and last-minute shoppers and since it's that good, they can afford to even add a few new names to the Christmas shopping list.
Tello Santa is coming to town
Besides the savings proposition one can't say no to, those who choose Tello will also "decorate" their mobile service with more benefits:

Free International calls & texts to 60+ countries
Free mobile hotspot
Wi-Fi Calling
Free Shipping
Free upgrade/downgrade or adding an extra line
Bring your own device & keep your number options
What about the Tello elves?
Modesty aside, Tello boasts an incredible customer support team available 24/7, ready to answer any question and to solve any issue. As a result of this perfect mix of amazing deals and great customer-focused services, this MVNO is rated as 'Excellent' on Trustpilot, a popular review website getting roughly 500,000 genuine testimonials about thousands of businesses each month. On Trustpilot, Tello has a 4.4 rating out of 5.
About Tello Mobile
Tello, a mobile carrier launched in 2016 caters to a variety of needs, whether that's a lot of data or a simple plan with a smidgen of MB. The "no fees whatsoever" policy, the flexible plans, and the outstanding 24/7 customer support made Tello the only wireless carrier on the US MVNO market rated as 'Excellent', as a result of almost 9,000 unbiased customer reviews on Trustpilot. Tello.com is a KeepCalling brand, a global telecommunications company registered in 2002 in the USA. KeepCalling was listed by Inc 5000 as one of the fastest-growing companies in the USA for 5 consecutive years.