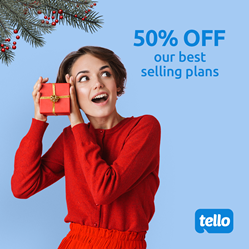 ATLANTA (PRWEB) November 25, 2021
Tello Mobile has great everyday savings and exclusive deals year round, but they are saving the best for the holiday season, because a little bit of planning can go a long way when preparing for the holiday shopping fever. Especially since the focus is on wireless savings and trimming the phone bill, meaning cutting down on a significant recurring expense for the entire family.
Operation "Holiday Savings 2021" starts with a plan.
Starting from Thanksgiving day, all new customers who join Tello Mobile or existing customers that add a new line get a 50% discount on all Tello plans above $10/mo. The offer is valid until December 7. An extra bonus that sticks around even longer - until Dec 31, 2021- is the fact that all Tello phones are on sale.
At Tello, people can always build their own phone plan, being able to choose the blend of minutes and data that best matches their needs. Customers are in control of how much they spend and what they actually need. As long as the plan of choice has the regular price above $10/mo, it gets a 50% OFF discount, thanks to the holiday deal. The discount is valid for the first month of service. After that, if they come to love the service, they can keep the same phone plan or add some extra data. If they decide Tello's not a good fit, they can cancel the plan anytime, with no penalties.
Here are the best value phone plans & their holiday discounts:
$7/mo for the Unlimited talk & text + 2 GB, and $14 going forward
$9.5/mo for the Unlimited talk & text + 4 GB, and $19 going forward
$12/mo for the Unlimited talk & text + 6 GB, and $24 going forward
Regardless of what customers choose, all Tello plans come with:
⤑ Free International calls & texts to 60+ countries
⤑ Free mobile hotspot
⤑ Wi-Fi Calling
⤑ Free Shipping
⤑ Free upgrade/downgrade or adding an extra line
⤑ Bring your own device & keep your number options
Modesty aside, Tello boasts an incredible customer support team available 24/7, ready to answer any question and to solve any issue. As a result of this perfect mix of amazing deals and great customer-focused services, this MVNO is rated as 'Excellent' on Trustpilot, a popular review website getting roughly 500,000 genuine testimonials about thousands of businesses each month. On Trustpilot, Tello has a 4.5 rating out of 5.
About Tello Mobile
Tello, a mobile carrier launched in 2016 caters to a variety of needs, whether that's a lot of data or a simple plan with a smidgen of MB. The "no fees whatsoever" policy, the flexible plans, and the outstanding 24/7 customer support made Tello the only wireless carrier on the US MVNO market rated as 'Excellent', as a result of almost 8,000 unbiased customer reviews on Trustpilot. Tello.com is a KeepCalling brand, a global telecommunications company registered in 2002 in the USA. KeepCalling was listed by Inc 5000 as one of the fastest-growing companies in the USA for 5 consecutive years.